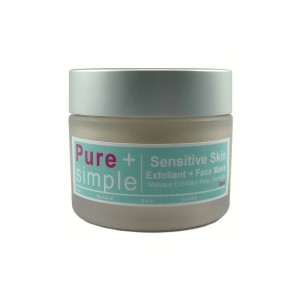 I'm on a mission to try lots of exfoliators, it seems, and it's because the summer time calls for your best skin showing since foundation is a no-go and pool and beach parties mean that you need to take care of your skin rather than just cover it up.
For those of you who need something that won't make your sensitive skin turn into a tomato, there's Pure+Simple to the rescue. They have an exfoliant and face mask that's specially for sensitive skin.
The base of the Sensitive Skin Exfoliant and Face Mask is extremely creamy and the jojoba beads are gentle scrubbers. The best way to use this is to rub it into your skin, and then let it sit for a bit so that the creamy base has a chance to heal and moisturizer. Wash it off for very moisturized smooth skin.
If you have oily skin, you probably will want to wash this off right away or skip your moisturizer after letting it sit. If you have dry skin, then definitely leave it on to reap all the lovely moisturizing benefits.
You can pick this up at Pure and Simple spas in Ontario or through their website.