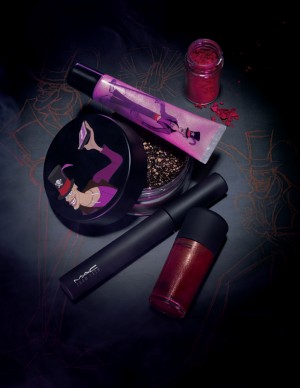 If you want a sneak peek into some of the new products launched for the Venomous Villains collection, you have to read this Q & A.  They talk about the cooling powder and shimmering nail colours.
Q: Tell us about the colour palette and textures you worked with to convey these villains through makeup?
Did you reference the villains' signature colours when developing the makeup shades—
for example, many of them wear shades of black and purple.
A: We definitely looked at the characters and considered who they were in terms of their different
personalities and attitudes. Cruella De Vil and the Evil Queen have a "real woman" shade palette, so we went
with trends we've seen recently, such as vibrant red lips. Maleficent is more surreal though—she was pure
fantasy for us. That's where we put in a lot of crazy purples, blackened shades and beautiful pearlized nails.
Disney was kind enough to provide us with Pantones of actual colours used when drawing these characters
throughout their history, so we were able to know the colours of everything, from the actual shade of
Cruella's lips down to the lining of her coat. These characters share deep, intense powerful shades and
strong royal hues.
Q: What is the quintessential villain look?
A: It's all about strong lips, brows, eyes, with a cheek: It's pretty full-on makeup that doesn't focus on one
feature, almost in an '80s redux kind of way. It's strength, amplified.

Q: We think the new silky Magically Cool Liquid Powders are pretty awesome. Can you tell us more about
them and how they fit into the collection?
A: We paired this product with Dr. Facilier—he's a guy who's into voodoo and this product is all about
creating a transformation. It's a featherlight, silky powder that goes on like a mist and sets or enhances
foundation, and at the same time it lends dimensionality on naked skin. The shades are magical and
all-encompassing, giving skin a beautiful, luminous effect.
Q: A lot of these Venomous Villains have very strong, powerful brows. What is it about the unique
Penultimate Brow Marker that is so fitting for this collection?
A: Absolutely, their brows are a hallmark, and we felt this was the perfect product to underscore that look.
It's a 12-hour, long-wearing product that you can draw in whatever shape you want to frame your face and
create a very dramatic look. You can't make a mistake and it's been tried and tested backstage. Even though
these are clearly fantasy characters, we had to make the collection wearable for the
everyday woman.

Q: These villains have different personalities and qualities that make them venomous; do you think that
women can identify with that?
A: These characters are definitely naughty; they're not sweet, princess types. These girls aren't
afraid to be mean. But I think people can identify with their naughty sides. This whole collection is
about transformation: Even a nice girl may have a naughty side, and she might want to step out
and try a new look.
Q: Most of these villains are unabashedly vain. Is it really so bad to be beauty-obsessed?
A: We think that vanity is taking care of yourself! Let me put it this way—it's naughty to be beauty-obsessed
if you're using the wrong products. If you're beauty-obsessed and using M·A·C, then we're
okay with that!