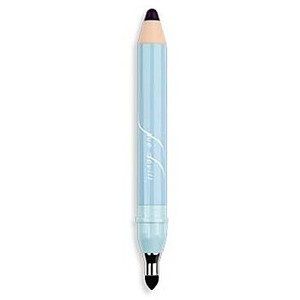 These days my morning routine is cut super short thanks to the Sue Devitt Eye Intensifier Pencil.  It is letting me do a quick smoky eye using their Khaki Green pencil.
It's a chubby eye pencil that requires no primer to stay on the lid, and the colour is perfect for work and for going out afterwards.
The pencil has a smudgy tool on the end, but honestly, I find that using my fingers is easier.  I either line my lid using this and then smudge the pencil, or sometimes I just paint over the entire eyelid using the pencil and just smudge the edges out.  If you want to intensify your eyelid even more, go ahead and add some black liner above and below the lashes, and highlight your brow bone.
I just have one pencil, but if you want the entire look, you may want to get the Eye Intensifier trio – it comes with a black pencil, a highlighting pencil, and a pencil in a shimmery plum colour that's very wearable.
Pick it up at TheShoppingChannel.com!