The latest brand to come out with a BB cream is Quo (available at Shoppers Drug Mart), and they not only have a BB Cream but a whole line of BB products, including primer and setting powder.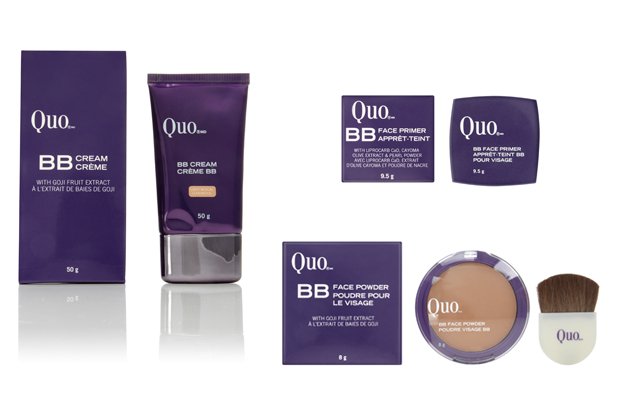 Now, the BB Cream itself is fairly standard, but I do have to say that out of all the ones I've tried it is the one that has a true BB Cream finish.  That is, it's got decent coverage and leaves you with a dewy flawless complexion.  Truly if it weren't so moisturizing, I'd say that it covers more like a traditional foundation.
However, unlike the traditional BB Creams, this one comes in a nice range of colours, and there are options for medium and darker skin tones!  The Quo BB Cream is very moisturizing and goes on more like face lotion because it has so many hydrators in it.
Because it's so dewy and without shimmer, the Quo line also has a primer with shimmer in it, and a matte powder that can be used for setting the product.  Actually, from the whole line, the compact powder was my favourite product.  It's super light (a little too much so because when you even dust it with your brush, you'll get a LOT of product), and because of that, it does have the tendency to get caked on, but overall, if you can manage to use this powder sparingly, it will work well to set foundation and keep it fresh for many hours.
Overall, although I liked the look of this BB Cream and there are good colours available, it's just too moisturizing for my skin type, which is oily.  If you have dry skin, you may like this cream, and if you want something with more coverage, then this is for you too.
While you're here, you should also check out my post on all BB Creams.