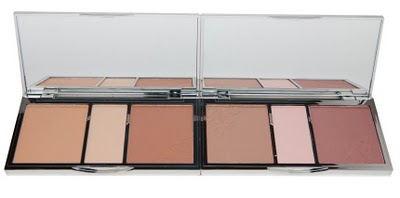 I am loving this fall's Couture Collection by Quo.  The colours are fun yet wearable and besides the polishes which I wrote about earlier, there are a few more products that have made it into my regular makeup wardrobe.
I'm really liking the Couture Face Palettes – for $25 each you get a bronzer, a highlighter, and a blush.  The palettes come in 2 shade selections – Down to Earth (nudes) or Rosy Oulook (pinks) – and it's the Down to Earth Palette that I'm using.
The bronzer is better as a blush because of the amount of shimmer that it has, but the quality of the powders is amazing.  They're so finely milled so they're really easy to blend.  They also have a lot of pigment so you're not layering on a ton of product to look good.  Instead of a blush, my palette has a face powder that would work on medium toned or tanned skin.  It's matte and I blended it with the bronzer to tone down the shimmer during the day.