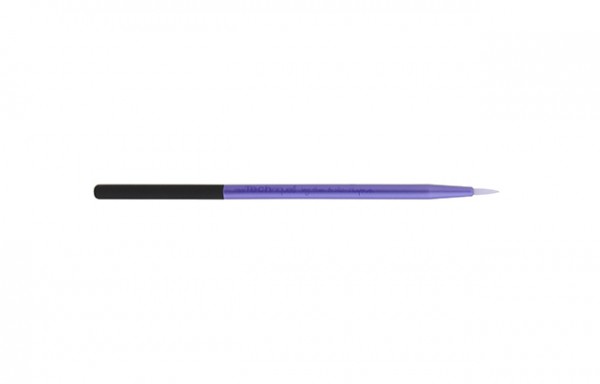 Real Techniques is a makeup brush company by Sam and Nic Chapman – they are the sisters behind the Pixiwoo makeup tutorial channel on Youtube, and I watch them religiously!
When I saw their silicone eyeliner brush, I just had to try it.
I use gel eyeliner on a regular basis and the one downfall of using it is that you have to wash your eyeliner brush daily so that you get a nice smooth application the next day that you use your brush.  It's a bit of a hassle to get all the product out of the brush, and that's why I was interested in trying out this silicone brush.  It's smooth and without any bristles, so you can apply the eyeliner and then basically wipe it dry with a wipe or with a bit of makeup remover.  You could also just wash it in some hot water with soap and that would do the trick.
But does it work?
…kind of.
Unfortunately, no bristles means that it's difficult to pick up product and when you do pick up product, there's not a lot of it on the brush.  Application is on the lighter side, and I found that I had to go over my line atleast once to get a nice solid finish.
On the plus side, this brush makes it easy to get right to the base of the lashes.  The brush is very fine and easy to control and the end result is a polished one.
Is it better than my usual eyeliner brush when it comes to application?  Not it is not.  However, this brush is easier to clean, and so I'll be reaching for it on a regular basis.
Pick it up online for $6.  Real Techniques will also be available at London Drugs, Familiprix, Lawtons Drugs, Pharmasave, Value Drug Mart, and Walmart.
http://realtechniques.com/shop-collection/your-eyes-enhanced/silicone-liner-brush