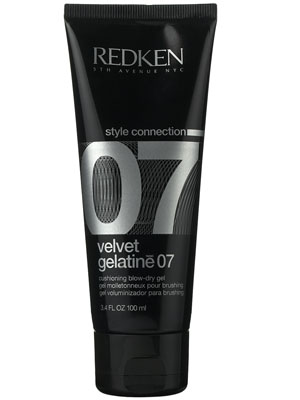 It's the time of year where blowouts seem to be weekly because of special events in my life. With tons of weddings to go to and guests to meet, I've decided to try and review as many blowout products as I can while I try to perfect my at home blow out.
My first product is Redken Velvet Gelatine 07 which seems to have been sitting in my cupboards forever. This is a blow-drying cushioning gel that is said to give your hair tons of bounce and shine. It's received amazing reviews online and people seem to really love it.
Those people must not have curly hair that they're trying to blow out, because I found that this product absolutely did not work for me.
I worked a dime sized amount of gel into my hair, concentrating on the bottom half of my very long hair. I found that the gel quickly "set" and made my curls defined which was fine but not what I was looking for at the time. When I proceeded to blow dry my hair, I found that the gel had almost dried and had made my hair quite sticky. It was difficult for me to work my large round brush through it and I found it hard to hold my hair taut because I was constantly fighting with the sticky hair. I almost wanted to wash my hair clean and start over.
Needless to say, using this gel was not a great experience and the result wasn't a nice smooth blowout.
If you already have straight hair that you are blowing out for more volume, then I'm sure this gel will work for you. Because it has more holding power than the typical blow-dry product, it will hold your hair in place for a long time.
If you have curly hair that you are blowing out, then I would skip this and go for a product that is lighter and easier to use. My hair needs more protection and moisture because it is so dry, and typically those are the products that work really well in my hair.
Redken Velvet Gelatine 07 is only available at salons.