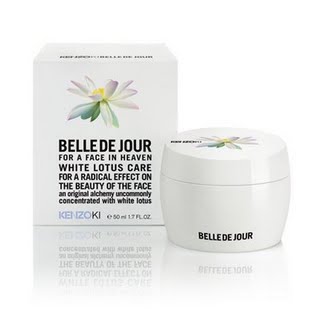 As much as I love fall clothes and the whole makeup look, my skin (despite being oily) just can't take the winter. It gets really dry and when that happens, it starts flaking which looks terrible.
My solution this season has been to splurge a bit and use Kenzo's Belle de Jour on my skin. It's got concentrated white lotus in it and is probably one of the most luxurious creams I've ever used on my face. It goes on soft and smooth and easy to spread on the skin even with the chilliest of fingers. The cream then absorbs quickly, and leaves my skin glowing.
Moreover, the hydration seems to last the whole day and I get the feeling that the hydration builds every time I use the cream.
No, you can't get this at the drugstore or even at Sephora, but you can order it on the Kenzo website and enjoy it throughout the season. $105 for 1.7 oz.