If you're into products that exfoliate the skin, you need to check out Reversa, the Canadian brand that specializes in glycolic products for the face and the body.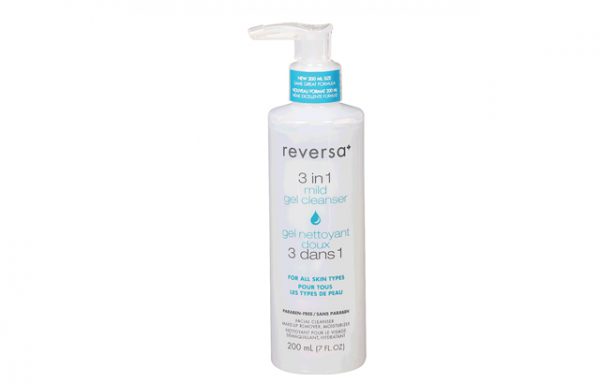 I've got a few of their products, but first for me to review is their 3-in-1 Mild Gel Cleanser – it has no scents or sulfates, which means that it doesn't foam.  What it does do is dissolve makeup and then washes it away with water.  Although it's a good cleanser, it doesn't take off waterproof makeup but it's not creamy either, so that's probably why.
This cleanser is perfect if you have dry skin and want something gentle on your skin.  It won't dry your skin out and will make it feel comfortable after washing, instead of tight and dry.
Because I use this cleanser as part of a two-part cleansing routine, I don't mind that there's a bit of residue or mascara left over after I use this once.  I use it again to get everything off, and wiping if off with a wet cloth means that everything really gets off.  I use a toner afterwards, and there's literally nothing on it when I wipe it across my face.  That's a sign that this really works!
And I love the pump bottle!  It means that getting product into your hand is super easy and convenient.
Pick it up at Shoppers Drug Mart for about $23 or you can order it online from Reversa.ca.