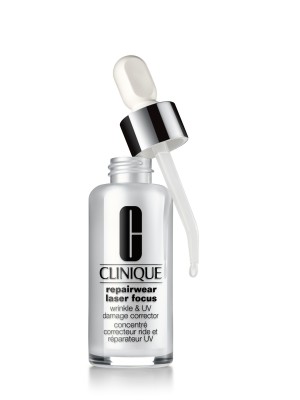 A deep tan just isn't cool anymore which is why it's nice to know that you can get rid of sun damage in as little as a month if you use the right products.
On the back of my bottle of Clinique Repairwear, it says that the serum is not like a laser (even though the word laser is in the name) but it can "achieve 63% of the visible wrinkle reducing power of a laser".  So it's not going to be quite as effective as a laser, but almost.
Say laser one more time.
Ok, so the serum is light, and fragrance free which is nice, and it ingredients to reduce UV damage, polypeptides (including Vitamin A) that reduce wrinkles, and a host of vitamins (C and E) that can provide free radical protection.  They say that you must use it for 4 to 6 weeks to see full results, and that's pretty standard for any skincare regimen.
I used the serum, and I have to say that I saw results in just one week.  I used it day and night just like the directions said, and I've noticed smoother more clear skin already.  I had a couple of dry spots (that were due to the sun) which are completely gone, and my tan has been reduced as well.
I liked this so much that I was torn between using it on the back of my hands, which also happen to have sun damage, and saving every last drop for my face.  If I used just the right amount, I also saw that makeup went on nice and smoothly and my skin stayed poreless.
The bottle costs $53 for 30ml and I think that it's worth it because you're getting a product that really works.
This is available at Clinique counters everywhere.