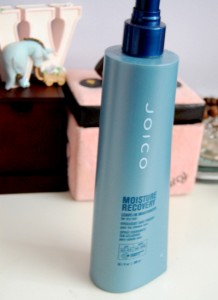 Joico Moisture Recovery leave-in Moisturizer contains a combination of hydramine sea complex, quadramine complex and jojoba oil.
The first thing I noticed was the scent, which was delicious. Imagine lying on a freshly washed, just out of the dryer, blanket, at the beach on the most perfect, cloudless summer day. That's what this leave-in moisturizer smells like. Mmmm…
After my hair was blow dried I also noticed that apart from smelling really, really good, it was also incredibly silky, and I had much fewer fly-aways.
While I wouldn't consider this a conditioner replacement, it does help to add extra moisture back to your hair. With autumn coming up, it's going to be excellent at banishing the static and fly-aways that come with cooler weather.