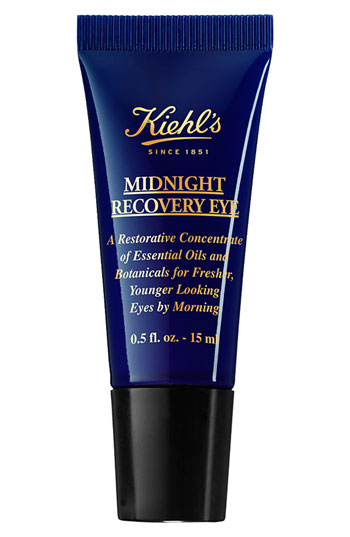 I've formed attachments to a lot of products like La Mer face cream and Lancome mascara, but I haven't found an eye cream I love yet. Kiehl's midnight recovery eye comes pretty close though. It has the same ingredients as the super popular Midnight Recovery Concentrate, and has no parabens, artificial fragrances, silicone or mineral oil.
Kiehls also creates the super-popular Creamy Avocado Eye Cream, which is great for hydrating super dry eyes, but I also have pretty intense under eye circles, so I was looking for something a little more substantial. The Midnight Recovery line works to regenerate skin overnight while you sleep.
The best thing about the eye cream is that it's incredibly hydrating. It feels refreshing as soon as you tap it around your eyes, and isn't greasy, so it feels good. It contains evening primrose oil, which is probably what lends the eye cream the herbally, florally scent that is so absolutely relaxing.
I've been using this eye cream for about 3 months now, with Clinique's Dark Circle Corrector during the day, and my eyes are definitely less puffy in the morning and I have less severe dark circles. This isn't to say that I wake up every morning looking like I just came back from a spa vacation or anything, but it really does make me look less tired when I'm running on little to no sleep. Really really.
Use it for a month and you will definitely need less concealer.
$38 at Kiehl's Stores.