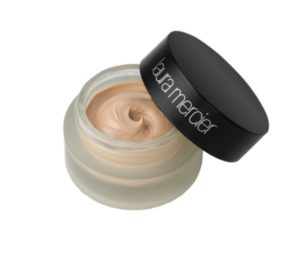 A friend of mine works with a lot of Laura Mercier and she sort of coerced me into trying this foundation—and I must say, I'm happy she did because it's a fabulous product.
I was complaining about how my summer weight foundations don't sit well on me as soon as it gets the least bit cold out. I always set my foundation with powder to avoid having foundation rub off on all my clothes; but sometimes this has the adverse effect of giving me super dry, flaky patches, especially around my mouth, as the foundation fades throughout the day.
Laura Mercier's Crème Smooth Foundation is super creamy and rich; not surprisingly, it has a thicker, somewhat heavier coverage that I've never been a fan of in the past. However, this works to your advantage in this case because the foundation glides on so perfectly and so smoothly that because it's so heavy, you only need a tiny, tiny amount to cover your entire face. I like to apply it with a foundation brush on blotchy or uneven areas and then use my fingers to spread it and blend it out from there.
Once it's blended, it's really quite lightweight, super smooth, and really just all around amazing. It doesn't settle into fine lines or around big pores and contains optical diffusers that give you magazine-cover worthy skin, sans airbrushing.
The only catch is, it's really only great for people with normal to dry skin because it is ultra moisturizing. If your skin is the least bit oily, it's hydrating enough that you will start to look oily after a few hours. Laura Mercier makes a fabulous oil-free formula as well that makes the whole blotting and re-powdering thing halfway through the day just so not worthwhile. But hey, if your skin is dry and only going to get drier as it gets colder, this is most definitely the foundation for you!
It comes in a 30g package, and given that I need a pea size amount or less to cover everything really, really well, I'm willing to bet that it's going to last quite a while, which is completely justifies the roughly $55 price tag.