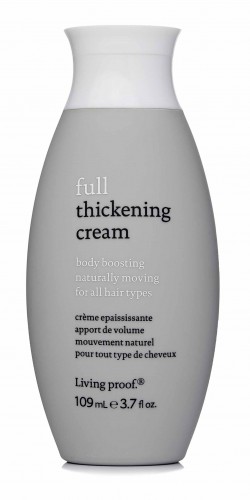 I don't really love Living Proof No Frizz products because they've left my hair dryer than before.
But I still want to find the next amazing product for my hair, so I continue to try them whenever I can.
I have really fine hair so I was looking forward to trying the Full Thickening Cream by Living Proof.
All I can say is that I wish I had a life-time supply of this stuff.  It is AMAZING.
Long hair just needs a nickle sized amount.  You just apply it to your hair as you would a serum or any other styling cream.  Run a comb through your hair to make sure that it's spread evenly throughout your hair.
I put it into wet hair, and I could feel a difference right away.  As I ran my hands through my hair, it felt like it was fuller already.  It felt like I had more hair.
The best part comes after your hair is dried.  The cream dries nice and shiny like a serum and isn't at all stiff or scrunchy to the touch.  That means that it looks amazing and completely full.  After I started using this, I've gotten so many compliments on my hair because it "really seems to be growing".  I'm the only one who knows that it's not my hair that's changed – it's just what I'm putting in it.
If you have fine hair, I would say that this is a must-have, can't live without it product.
I got mine from TheShoppingChannel.com where it ships for free, and costs just $21.