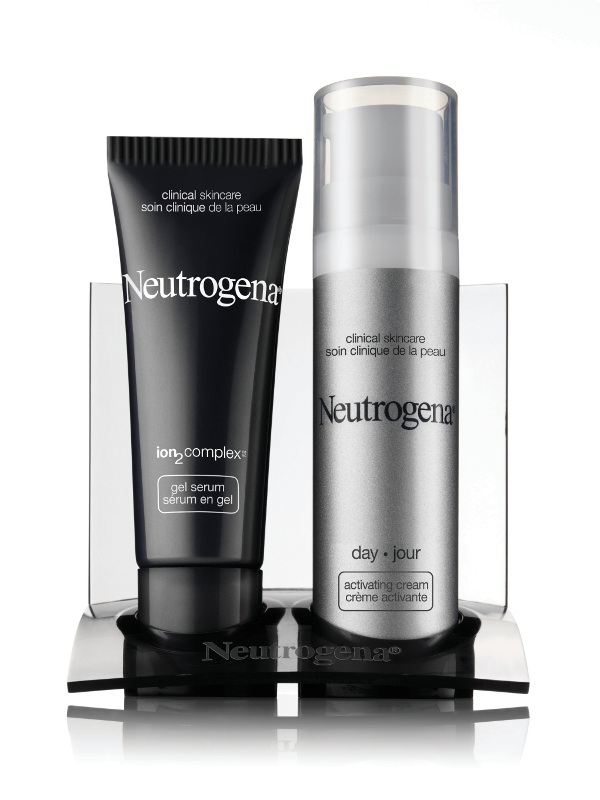 Neutrogena Clinical is a set of 2 products packaged together that's said to have the latest technology.  Neutrogena Clinical even has it's own website where you can see before and after pictures of people who have used the product.
Neutrogena says that the product is "Clinically proven to revitalize the look of collagen-depleted skin, when combined with the activating cream the ion2 complex™ gel serum begins working immediately. Over time, the anti-aging effects become increasingly apparent. 100% of participants saw improvements in the look of lines, firming or elasticity."
The 2 products contained in the kit are a silky gel primer and a sunblock lotion.
The primer feels like nothing more than a silicone one and I couldn't see anything in the ingredients that would help it repair skin.  Because of the silicon, the primer goes on very smoothly and hydrates skin. I should say that the gel is a dark grey colour but it does get clear when you smooth it on over your skin.  I didn't notice a visible greyish tone after I had applied it on my skin and rubbed it in.
The Day Activating Cream is meant to be applied over the gel serum and also has a lovely silky texture.  Having applied the primer gel before the cream, I found that this cream went on really nicely and after a few minutes absorbed into my skin.  It has an spf 30 so it is suitable to wear every day and provides adequate sun protection.
While I didn't notice any real changes to my skintone while I used the system, I do have to say that I thoroughly enjoyed using it.  The best part was that my foundation went on super smoothly and it stayed on all day.  My skin looked healthy and moisturized as long as I used the system daily and I was satisfied with the results in that sense.  I was also happy that I got sun protection in a formula that wasn't too greasy and was really easy to use.
I do recommend the Neutrogena Clinical Day system but don't expect it to work miracles.