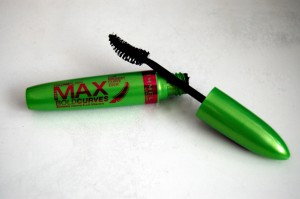 So Rimmel's The Max Volume Flash Bold Curves Mascara contains some kind of cool sounding ingredients, such as Collagen to volumize and Keratin to strengthen lashes. They also make some pretty exciting claims, such as 14 times more volume, and up to 70 percent lift.
After all is said and done, I didn't really like this mascara. I have really straight, thin lashes that need a ton of help from mascara, and most mascaras either weigh my lashes down, or just don't have the staying power to keep them curled all day. This mascara was not the exception, unfortunately. My lashes started to un-lift and un-curl literally right after I put it on, which was disappointing.
Did it volumize? Yes, but if that's all you're after, go pick up a tube of L'oreal's Voluminous.
I liked the way the brush was curved, but didn't really love how "wet" the mascara was. It took a little while to dry, and had to be applied pretty carefully because of the hugeness of the brush.
Would I buy it again? Probably not. I wouldn't say it's the worst mascara I've tried, but it kind of falls somewhere in the middle for me. I DO like that it has the Keratin in it to strengthen lashes, and if you're just after a mascara that volumizes slightly and defines, pick up a tube of this and try it for yourself.