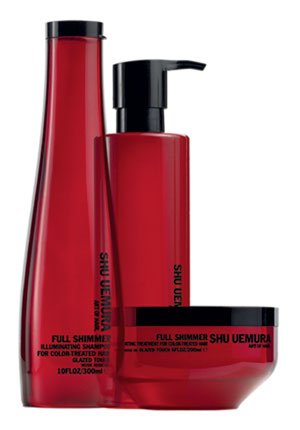 As a follow-up to my Art of Hair Ceremonies appointment, I've been using the Shu Uemura Art of Hair Full Shimmer Illuminating line of products.  Created with super light formulations, this line is essentially one that totally removes product build-up and thus leaves hair shiny.
I could tell that this line was different from the very first time that I used it.
The shampoo is completely different from any other volumizing shampoo that I've used.  It's very light and not thick at all, which means that it's not just composed of detergent.  This is why it doesn't lather very much, and I found that it cleaned my hair but didn't leave it overly dry.
Actually, the second or third time I used this shampoo was a couple of days after colouring my hair and I found that it took out a lot of the hair dye residue in just one use.  Afterwards, my hair was still just as luminous as if I had just coloured it, but it was nice and light instead of being weighed down.
I also like the illuminating conditioner because it is moisturizing but doesn't weight the hair down.  My only issue with the conditioner is that I use a LOT to get good coverage and feel that it's penetrating my hair, but since it is doing a good job, I don't worry about that too much.
When I do want more heavy conditioning, I use the mask that's part of this line.
This line is made for color-treated hair, so it doesn't fade the hair and really makes it look as if there's a nice glaze that's been applied.  There's musk rose oil in all the products and so they do smell beautiful.  I haven't found the scent to be long-lasting in my hair.  There's Herbal Essences for that if that's what you prefer, but I do like smelling the products while I'm in the shower and I find that it does help enhance my mood.
Note that these products are sold in select salons only.