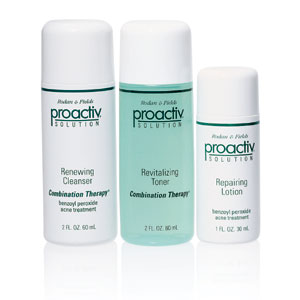 I don't know if you've seen the ProActiv commercials recently, but they have changed their formulations so that the ingredients are further milled and are small enough to get into your pores and be effective.  The commercials also imply that the new formulations are gentler on your skin without losing efficacy.
It sounded good to me, so when I went on vacation, I took a 60 kit with me and used it daily.  It was kind of the perfect product to travel with because the stress of traveling coupled with humidity, sweat, and pollution always takes a toll on my skin.  I knew that ProActiv would help my skin stay clear, and all I had to do was use it every day.
When I used the new formulation, I noticed right away that the formulas are creamier and smoother.  The Repairing Lotion is not as gel-like as before, and is more on the creamy side.  Even the cleanser, which is gritty so as to be exfoliating, is creamier and nicer to use.
I really think that I avoided breaking out because of ProActiv and I like the new formulation.  That being said, the system is still really drying.  I used it morning and night for the first couple of weeks, and then when my skin started peeling uncontrollably, I switched to using it just during the day.
I know that it doesn't work for everyone, but I love it and it's the one system I can always come back to because it's fool-proof and totally works.