I love products that have glycolic acid in them because they're gentle enough to use everyday and when used on a regular basis you can really reverse any damage that's happened to your skin. Where it used to be difficult to find products with glycolic acid in them, now there's a gamut of new brands that offer solutions for damaged skin.
The problem sometimes is that not all the products are at the right pH to work on your skin, and many times there's not enough of the active ingredient to undo any real damage. If you're contemplating what to get in the range of glycolic acid products, I would say to stay away from cleansers that claim to let the acid work while you're washing your skin. They won't do the job that a good moisturizer can do and that's where you should really put your money.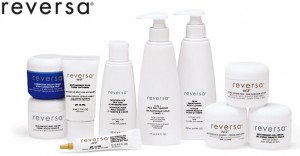 The next time you're at the drugstore, have a look at Reversa. They've got a fantastic range that offers solutions for everyone and the products are affordable for everyone!
I particularly love their Skin Smoothing Body Lotion which has a concentration of 10% glycolic acid. It works so well that I had to get used to the stinging that I felt when I put it on my skin, but after a month of using it, my skin has never been softer and smoother.
You should also check out their Solution for Oily and Acne-Prone Skin which is a great toner that's easy to incorporate into your existing skincare routine.