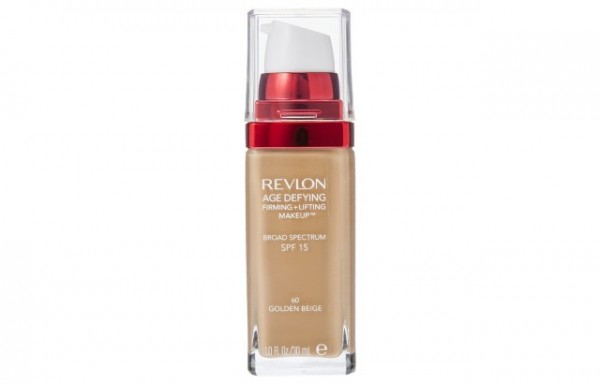 I haven't reviewed very many drugstore foundations on this site – truth be told, I'm picky about foundations because I want them to match my skin exactly… and I want them to last a long time on my oily skin.  I've found that it's just too difficult to find a foundation at the drugstore, but when I saw that a squirt of Revlon's Age Defying Firming + Lifting makeup foundation matched almost exactly to my Make Up For Ever HD foundation, I knew that I just had to try it because the colour was spot on.
SPF 15 means that this is a great choice for an everyday foundation but it won't photograph well – not a problem if you're just planning on wearing it to work and while you're out and about.
This foundation is for all skin-types – it's not overly moisturizing but it's not matte either.  Sometimes I like to wear it with its own satin finish, and other times I'll use powder over it.  No matter what, though, I've found that this foundation has serious lasting power.  I can even work out with it and it lasts and lasts.
I'm not usually one to try "age defying" products, and I know that Revlon says that over time using this foundation makes skin more firm and less lined.  I really can't comment on that claim because I haven't used the foundation on its own without other skin-smoothing products.  I will say that its medium coverage makes skin look pretty flawless, and the hyaluronic acid in it makes skin look very smooth.
Also awesome: it comes in a glass bottle with a pump, so everything is nice and sanitary and you only dispense a small amount of foundation at a time.  I find that one pump is enough for my entire face if I'm applying with my fingers, but if I use a sponge or a brush then I usually need two pumps.  It's quite a thick foundation but it warms up well with my fingertips and I dab it all over my face before smoothing it over with my fingertips.  It's a little tacky to the touch after applying, but does end up setting in a matter of minutes.
If you're in the market for a new foundation and don't want to spend a lot of money, check out this one.  About $20 at drugstores.