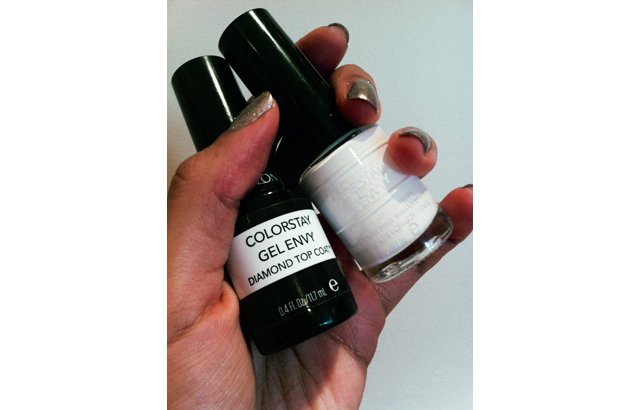 …so another gel nail polish system is here, fittingly in Revlon's ColorStay line. The Gel Envy system comes with its own top coat which claims to use UV rays from the sun to stay hard – just like CND's Vinylux line. Just like other gel lines, Gel Envy claims to set to a hard finish and last longer than other nail polishes. It is also not a true gel… meaning that you can take it off with regular nail polish remover.
The short review: I don't like this system.
The top coat doesn't dry quickly and doesn't dry to a shiny finish. It's called Diamond Top Coat, but it's not diamond-like at all. Really, I could live with a top coat that wasn't shiny, but I don't love that it doesn't dry to a hard finish.
I've given this top coat upwards of an hour of drying time, and then I'll look down and still see scuffs and smudges on my nail polish.
Try the nail polishes if you're planning on using your own top coat, or just stick with regular nail polish.