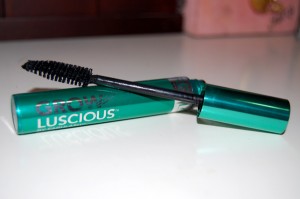 There were a lot of mixed reviews for Revlon Grow Luscious Mascara, which made me sort of hesitant to buy it. But, I am also a sucker for anything that claims to condition lashes so I gave it a try.
Having read a few different reviews I noticed a pattern in that women that seemed to like the Grow Luscious Mascara already had gorgeous lashes. I on the other hand, do not. My lashes generally overly thin and pin-straight, and therefore, I'm pretty picky with mascaras. When I find something I like I'm usually so exhausted by the effort that I tend to use it for a really, really long time.
Grow Luscious mascara doesn't flake, which is a plus, but I found that it took forever to dry, which is the main reason I would not re-purchase this mascara. There's just too much time for it to smudge all over the place, or for a girl to sneeze and ruin her make-up entirely.
The brush is also really huge and chunky (think Diorshow) so it does have to be applied carefully if you have short lashes. It stays fairly clump free for about two coats, so I would leave it at that if possible. Because it's got the huge Diorshow-esqe brush, it does promote volume, which is nice if that's what you look for in mascara.
I haven't noticed a huge difference in the length of my lashes in the short while that I've been using it.
Overall, while this isn't the worst mascara I've ever tried, it's not one that I would generally recommend or re-purchase again. It's fine if you already have nice lashes, but speaking for those of us that don't, I like something that packs a little more punch. At around $8, it's a drugstore steal, but I'd personally rather take that $8 and put it towards a nicer mascara.