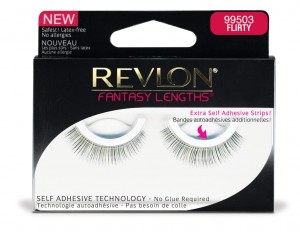 If you've been following, recently I asked for your help with putting on fake nails. I had tried the Revlon brand, and their instructions just did not help at all. Thanks to a reader comment, it was determined that I was using too much glue, and other than that, yes, that is the way that the nails were supposed to be.
It turns out that fake nails just aren't my thing.
But I haven't stopped being adventurous. The next product that I've tried has been Revlon False Eyelashes. They look really great but the problem again, is that their instructions just do not cut it. They say to apply the glue on the lashes, wait 20 seconds and then put the lashes on. I tried that, and they just didn't stick.
So I tried putting on the lashes without waiting for the glue to dry and they moved. So I removed them and then tried reapplying but by now there was such a thick layer of glue on the lashes that they didn't stay put.
What am I doing wrong?
I know that more of you have probably tried fake lashes than the nails, so please send me your tips! I wanted to wear these to a party last weekend and couldn't but with summer weddings coming up, I know that these will take my makeup to the next level.