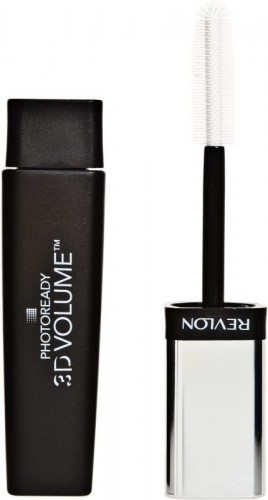 You have to love the inventive names that cosmetics companies are coming up with for their products these days.  3D volume… as if my lashes were 2D before and and with the use of this mascara, they leapt out of my face right at you as if you were at a 3D movie.  I get it – this is going to make my lashes look… realistic!  So real, you'll be right there with them!
Kidding aside, Revlon Photoready 3D Volume Mascara is definitely my favourite mascara these days.  I reach for it daily, and even though it's not a flawless formulation, I have to say that the effect that I finally achieve with it is pretty great.
Of note is the mascara's wand which ends in a rounded bristled tip, instead of a regular pointy one.  The rounded tip makes it easy to get the tiny lashes on the inside of the eye, and you can also use it to get your lower lashes.  It's pretty revolutionary and fantastically designed, because it gives you a regular tip combined with a rounded tip and it's the first mascara to do that.
The bristles are rubbery, and make it easy to apply the mascara to literally every single lash.  The mascara goes on smooth and clump-free, which is really nice.
The only thing that I don't like about the mascara is that the formula is slightly wet.  That means that coats go on rather thin and building volume takes a lot of time and lots of mascara coats.  I love wearing lots of mascara so I have really thick lashes, and I'm finding myself applying 5 or even 6 coats at a time to really get the thickness that I want.  This is a great mascara for length, but you're going to have to work a bit harder if you want major volume.
Though the formula is thin, it does dry relatively quickly and lasts throughout the day without flaking or smearing.  Revlon now has a waterproof version of this mascara just in time for summer, so if you want something that's really long-lasting, that's the way to go!
Pick this up at your local drugstore for about $10.