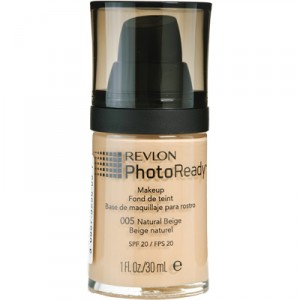 If you're of medium-toned skin, you know what it's like to search for foundations.  It's such a pain because there are so many out there that seem to look good at the store and then either melt on your skin or make you look like a ghost in pictures.  It's so embarrassing to look through a friend's photos after a night out and see that the way you thought you looked wasn't how you actually looked.  Or even if you looked good, the pictures don't prove it!
That's why I was so excited to find out about Revlon's PhotoReady foundation.  They say that it looks good no matter what light you're in and that's kind of a break through when it comes to foundation!  Why haven't other companies thought of checking their foundations in all light?
So actually, I kind of love this foundation, I would even say that it's a holy grail, but the thing is that it doesn't work for me, and I'll get to that later.
Revlon PhotoReady Foundation has a rich yet light texture.  It is almost like a cream to powder formula, and it blends into skin really easily.  The bottle has a pump which means that you can really control how much of the product you take out.  I liked to apply this with my fingers, and I just used a little bit at a time and blended away the imperfections that I saw.  I also thought that it seemed to go on slightly lighter than it seemed in the bottle, but at the end, I still found a perfect match for my skin and that is what really matters.
There is slight shimmer in this foundation.  I couldn't see it much indoors, but if I stood in the sunlight, my skin looked slightly dewy.  I actually liked the shimmer – I think that a pure matte finish is a little dated and it definitely doesn't photograph well.  A pure matte finish also usually looks horrible in fluorescent light.  I was glad to see the shimmer because it adds depth to your look and makes skin look healthy.
I found that this foundation really did look amazing in all lights.  I especially love how it looked in natural light because my skin looked flawless.  This has such a weightless texture and finish that the only way I could tell I was wearing it was that my skin was super smooth and totally flawless.  The coverage was medium but when I applied it with my fingers I could make it as light as I wanted.  This worked really well under my eyes too.
The foundation photographs well and looks great in all kinds of light.  It was warm enough to look good under fluorescent light and it looked pretty in sunlight and indoors.
So what was the problem?
It doesn't last very long on my super oily skin.  On hot summer days or in humid weather, this is not the foundation for me.  It pretty much melted off my skin by lunchtime, and at that point it didn't even look as if I were wearing foundation.  I wasn't a fan of this, of course.
I've tried it with setting powder, and with primers, and nothing really seems to work because there are no added mattifiers in the foundation itself.  It's just too creamy.
That being said, I am going to hold on to the foundation and use it with a primer on cooler days which is most of the time here in Calgary.  I'll wear it to special events with a primer and a powder, and make sure that I have lots of powder on hand to make my skin look really flawless while I'm wearing this.  However, this isn't going to be something I wear for long days out, or for weddings where I know I'm going to do a lot of dancing.  For everyday wear though, this can't be beat, and at the moment, it's my favourite foundation despite the fact that it doesn't have great lasting power.  I think that's saying something.
Revlon also has this in compact form available this fall.  The compact is a super creamy cream-to-powder and is great for touch-ups.  You never know when you wish you had worn foundation, so this goes in my purse for those times that friends call and you decide to show up to dinner without going home to get ready first.
I have also heard people compare this to Make-Up Forever's HD Foundation.  There's really no comparison to make.  This has a nicer texture and finish, but the Make-Up Forever stays on longer which is probably more worth it.
I also see complaints about the price.  I believe this is $20 in Canada.  Yes, it is expensive for a drugstore foundation, but something comparable is only available at a department store, for double the price!