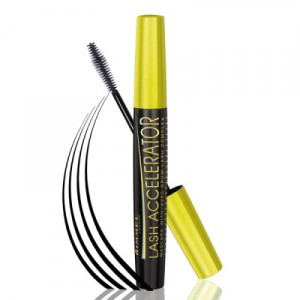 Rimmel's new mascara, Lash Accelerator, claims to help lashes grow longer and thicker.
I've been using the mascara for a month now, and guess what?  This does not work.  After a month of use, my lashes are no longer than before, but I have to say that I've noticed that I don't lose as many lashes when I was my face at night.  The mascara may condition lashes, but there's nothing in it that actually makes lashes stronger.
However, it's still in my makeup bag, because purely as a mascara, it's pretty awesome.  The wand is small and thin so it's super easy to get every single lash without getting any mascara on your eyelid.
I also love the formula.  Lash Accelerator does not clump or smudge.  Even after working out, it doesn't smear on my eyelid and just stays put!  Best of all, it provides the lengthening and if I layer it, I get a good amount of volume as well.
For a drugstore mascara, this is a pretty great one, but as a lash treatment, Lash Accelerator just does not work.