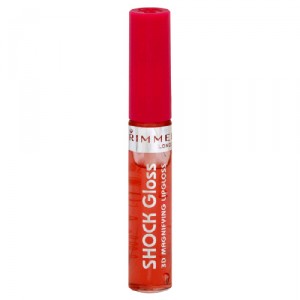 I'm usually not one to wear lipgloss. I'm strictly a chapstick girl, but when I want to dress up my lips, I will (albeit, rarely) put on some lipgloss.
Rimmel London has released their Shock Gloss 3D Magnifying Lipgloss, and I was pretty intrigued by the product's name. The last thing I need in a lipgloss is something to magnify, or draw attention to my already big lips.
What I loved about this product was the applicator. Unlike other lipglosses I have used in the past with a brush applicator, the Shock Gloss uses a spatula applicator. I found this strange when I took the wand out of the bottle, but after I applied it to my lips, I found that the spatula actually allowed for the perfect amount of the lipgloss to be applied to both the top and bottom lip. Another benefit to using a spatula instead of a brush is that no excess gloss is left on the plastic applicator, as using a brush would lead to the brush to have bent ends and experience build-up.
If there is one thing I hate about lipgloss, it is the stickiness factor, and this one was no different. The lipgloss is pretty thick, and the wind was obviously my enemy while I was wearing the product. My hair was constantly getting stuck on my lips, and having sticky hair became a bit annoying.
However, one positive thing about this product is that it lasted on my lips a really long time. I drank water, coffee, and ate lunch and still had the product on my lips (not as much as the first application, but there was still quite a bit.) This was pretty impressive.