Did you know that Robin McGraw, Dr. Phil's wife, has her own skincare line?  It's got cute packaging and active ingredients and targeted to someone who wants something different than what's out there.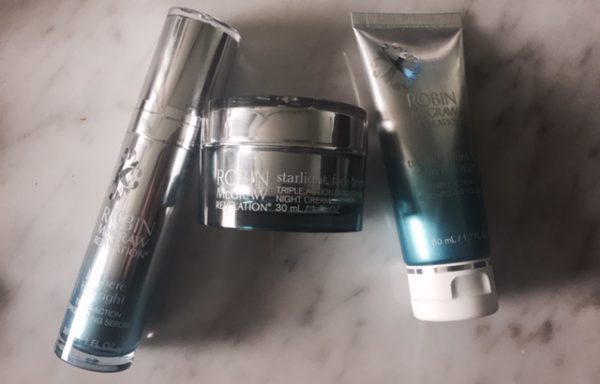 I think if you're navigating what to get, it can get confusing to see what products go together and what would help you get results.  That's why I like the Luxury Sets – they're put together based on the results that you want to achieve.  I got the Be The Brightest One in the Room set, which includes a face scrub, a brightening serum, and a brightening cream.
Now, I have to say that the Twinkle Twinkle You're a Star! scrub ($28 USD) was a little too harsh on my skin because of the little bits of pumice in it.  They're actually quite sharp on your skin, and better suited to the feet or the rest of your body.  Still, the brand gets some credit for using scrub ingredients that aren't plastic beads, which so many brands are still doing.
The Let There Be Bright serum ($66) and Starlight, Face Bright cream ($50) both have some vitamin C in them as an antioxidant.  They are super moisturizing, which can help skin look brighter, along with regular exfoliation.
The set costs $115 and can be purchased online.