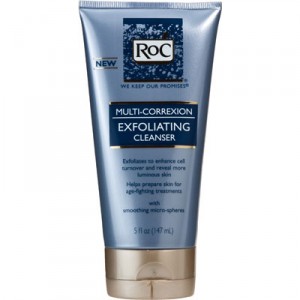 Roc Multi Correction Exfoliating Cleanser was nice, though not my style. I'm not big on exfoliating cleansers, because I like my exfoliators and my cleaners to sort of remain separate.
Regardless, this is nice for those of you that DO like a daily exfoliator. It's quite creamy, so you don't need a whole ton of it, although for the same reason, I would also suggest that you use a separate makeup remover prior to using it. It's probably not "cleansing" enough to remove makeup like foundation.
Multi Correction Exfoliating Cleanser is a physical exfoliator.  It would be nice on sensitive skin because it's not super harsh, the granules in it are nice and fine, and it doesn't contain chemical exfoliants that might burn sensitive skin. All in all, good for daily, or every-other-day use.