You might not read the ingredients of most cosmetics, but it's worth taking a look at the ones posted on the back of Rocky Mountain Soap Company's new Omega 3 Hand Cream: there's just 10 ingredients, and chances are, you'll know what most of them are – and the 10 include water, beeswax, and 2 essential oils for scent.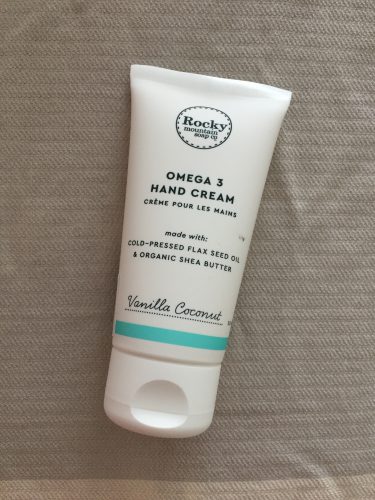 When Rocky Mountain Soap Company came up with this cream's formula, they decided to keep on using their toxin-free ingredients, and kept the ingredient list small so that they would only use ingredients that packaged a punch – hence the addition of cold-pressed flax seed oil and shea butter in the mix.
And you know what?  It actually moisturizes so well and isn't greasy either.
Vanilla Coconut is my flavour, but it also comes in Lavender and Lemongrass, and in tubes small enough to take on the go.