People that love the Rocky Mountain Soap Company's face care products love the Transformative Cleansing Oil.  It will transform your skin, is what I kept on hearing.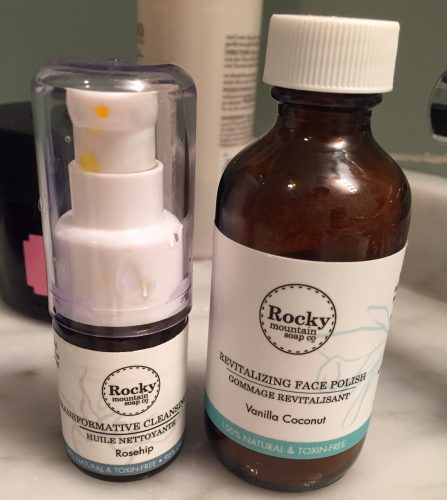 After using it, I'm not so sure.  
I love the ingredient list for this oil:
Helianthus Annuus (Sunflower) Seed Oil*, Simmondsia Chinensis (Jojoba) Seed Oil*, Rosa Canina Fruit Oil*, Arnica Montana FlowerExtract*, Calendula Officinalis Flower Extract, Lavandula Angustifolia (Lavender) Flower Oil, Citrus Aurantium Amara (Neroli) Flower Oil, Tanacetum Annuum (Blue Tansy) Flower Oil, Rosa Damascena (Rose) Flower Oil, Matricaria Recutita (German Chamomile) Flower Extract, Santalum Spicatum (Sandalwood) Wood Oil, Cymbopogon Martinii var. Motia (Palmarosa) Leaf Oil, Tocopherol. 96% Organic
It's all natural oils, and no sulfates, phthalates, just a pure blend of oils.   I will say that it smells amazing – the rose oil with the freshness of chamomile and woodiness of the sandalwood oil is a great blend – I would buy the perfume!
My issue, however, is that this oil doesn't emulsify with water.  I actually love a good oil cleanse – oil does dissolve oils, and cleansing with an oil is fabulous for those of us with oily skin because it will leave your skin more clear without stripping it.  But an oil-based cleanser should wash away clean, or mostly clean, and this one doesn't.  RMSC suggests misting toner on to a cotton pad, and wiping your face repeatedly until all the oil is gone.  I prefer taking a warm wet washcloth and gently wiping the oil off my face – and lots of makeup goes with it, but then I follow up with a traditional foaming cleanser so that my skin is free of any oil-residues and residual makeup.  
After using this for a few times, I didn't hate this cleanser, but it's not my choice as an oil cleanser.  It's pretty similar to using a cold-cream as a cleanser, and not many people do that any more. 
You can pick this up for $41 at Rocky Mountain Soap company locations and online.