The prettiest blush ever… Gotta dig it out and find it.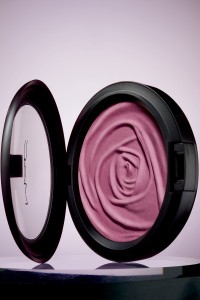 MAC Cosmetics' new line is called Rose Romance and it's pretty great. It's a collection of pink glosses, lipsticks, and face products that all go together.  Many of the shades, especially the lipstick ones are for people who are more fare, but there are some picks that would look good on lots of people.
I have two favourites from this line. The first is the Rose Romance compact which is amazing. It is a pretty mauve pink colour and a peachy shade as well. The best thing about the compact (and you know how I appreciate pretty compacts), is that it has a rose design built into the powder. It's not that there's a rose printed on it – it's that the entire powder is formed into petals so that the design is 3-D. Very pretty.
The other product that you must try from this collection is their See-Thru Lip Color. It pretty much blows every single lipstain out of the water because it's a gel texture that's really easy to apply and then layer if need be. There's a sheer red colour, and then a colour that looks very dark in the tube, but actually wears like a pretty raspberry or a dark burgundy after 4 coats. You can do so many looks with the lipstains and I like to put some on every morning and then layer gloss depending on my mood. It just makes my lips darker and more pigmented and they just look naturally pretty. I am using mine so much that I'm tempted to stock up on some backeup tubes!