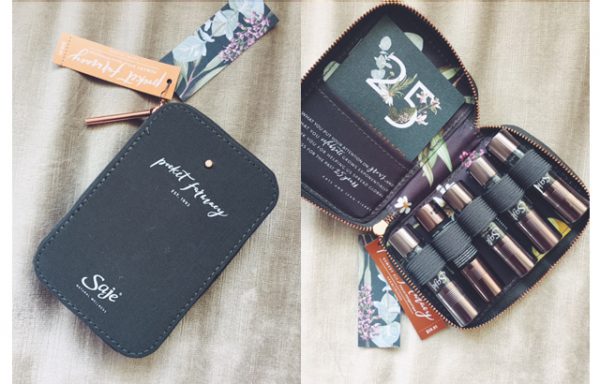 Saje Wellness, the popular and fantastic-smelling Canadian brand from Vancouver, is celebrating its 25th birthday this year and with that comes the  Saje 25 Limited Edition Pocket Farmacy Remedy Kit.  This kit has 5 of the Saje essential oil remedy blends to help you take care of a variety of ailments you could face while you're on the go.  The kit includes:
Peppermint Halo Headache Remedy
Immune Germ & Virus Fighting Remedy
Eater's Digest Digestion Easing Remedy
Stress Release Tension Reducing Remedy
Pain Release Analgesic Remedy
Not only do all the remedies smell amazing, but they're also package in a super-cute case that zips up and keeps everything nice and safe.  My favourites are the Peppermint Halo and the Stress Release Remedies because they instantly pick me up and make me feel better if I'm feeling sluggish.  They're also concentrated enough that you smell them after a little dab. 
The Pocket Farmacy Kit is available at Saje Wellness locations and online for $59.95.