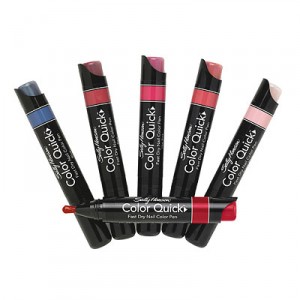 I'm going through my nail polish colours like crazy this summer, and in my quest to get great nails all the time (since summer tends to be when I go out more), I tried Sally Hansen's Color Quick Fast Dry Nail Color Pens.  These are pens that have a brush tip.  You click the pen and polish comes through the brush so that you can then swipe it on your fingers.
I guess the point of the whole mechanism is to make the colour easier to apply, but since you're still using a brush, I really don't see how this is any more difficult or easier than using regular nail polish.  It pretty much still took me the same amount of time that it usually does to do my nails, and that's not very long at all.
At the end of the day, these pens did not get a pass from me.  The polish went on super streaky, and even after 2 coats, there were streaks in the final product.
I think that the main problem with these is that the brush isn't the greatest.  It's kind of stubby and rough, and so it can't make the polish nice and smooth.  Also, since the polish is quick dry, not only does it dry very quickly on your nails, but it also dries quickly on the brush and drags all the fresh polish with it.
All in all, this might look easier than applying regular polish, but it's really just a huge fail because you don't end up with a suitable final product.