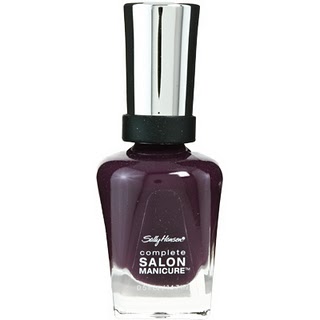 Just tried Sally Hansen's Complete Salon Manicure nail polish!  This product says that you don't need a base or top coat while using it, and they say that the polish will stay on for 10 days.
Guess what?  This is a pretty fantastic polish and it does indeed stay on for 10 days without really chipping too much.
The only thing is that I don't feel that it really replaces a base and top coat.  I like using a base coat because it protects my nails, and a top coat keeps the colour looking very shiny.  With the Sally Hansen Complete Salon Manicure polish, I found that the colour faded after a couple of days, and the polish wasn't shiny at all, so my manicure started looking old quickly.
This is a great polish, and if I were going on vacation, it's the one that I would do a manicure with because I know that the polish would just last and last.  For the times that I don't need such a long-wear polish, I'll use it with a base and top coat.  This comes in lots of colours so it's worth updating your polish wardrobe with it!