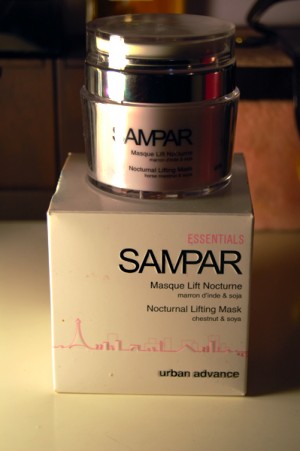 Sampar Nocturnal Lifting Masque claims to do a whole bunch of exciting things, such as fight wrinkles, tone the skin, tighten the pores, reduce blotchiness, moisturize ad protect skin from oxidation. Phew! That's a lot for one mask to accomplish.
It contains horse chestnut, an anti-inflammatory; soy protein, which stimulates collagen; lime blossom and rose water, which softens and freshens skin and Urban Advance Complex, which acts as an antioxidant shield. There is also very little alcohol in this masque, which is always nice.
I was really, really impressed by this masque. It absorbs really quickly, which was sort of unnerving for me because I'm used to moisturizing masques being sticky on my skin for a really long time. It's really not even a little greasy or sticky. Admittedly, I don't have any wrinkles, but you can feel almost an instant tightening effect after you put it on, and it has a really pretty rose scent.
My skin was still pretty well hydrated after I woke up in the morning, and I didn't have my usual morning blotchiness. My skin was gloriously soft to the touch, and didn't feel sticky at all, like with some overnight masques.
Would definitely recommend this to everyone, of all skin types because it is just that great. It's $78 for a 50ml jar, but it's well worth the money, in my opinion. Sampar can be found at Sears, or http://www.sampar.com.