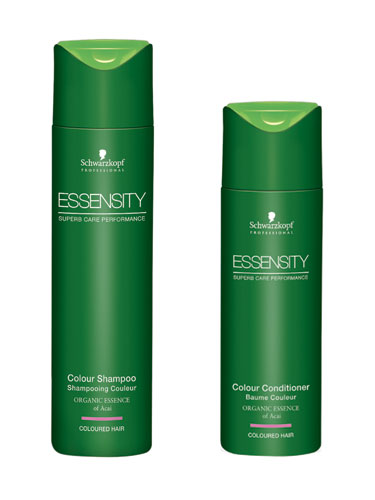 This year, Schwarzkopf, the brand that has been around for 111 years, has relaunched their Essensity line of hair care products.  The products are naturally derived, are paraben, silicone, and artificial colour and fragrance free!
The best thing is that they actually do perform like regular shampoo and conditioners.
I've been using the Colour Care shampoo and conditioner for the past few weeks, and I have to say that I'm impressed.  My colour hasn't faded at all, and my highlights look just as fresh – not brassy or orangy as they can usually get after a few weeks.
The collection also smells amazing – kind of like a woodsy blend of patchouli and musk in a blend that's so light but definitely there so that I feel that I don't have to wear my regular perfume.
Schwarzkopf Essensity products are only available through your local salons.  As I said, this is a repackaging, so the bottles are now green instead of white as they used to be.  The shampoo is $16.25 and the conditioner is $17.25.
They also have salon colour which I will tell you all about later!