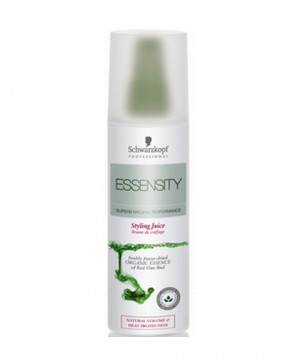 Schwarzkopf says of its Styling Juice:
100% styling performance for natural looks, containing the purest organic essences and essential oils; from light, natural style and control to pliant, firm style fixing.
All ESSENSITY styling products are free from:
– Artificial fragrances*
– Silicones
– Mineral Oils
I wanted to use something natural but I had really low hopes for this product – anything with silicones usually doesn't help smooth my hair as much as I would like it to, and I really like the shine that Silicone provides.
But I have to say that the Styling Juice is now my go-to product when it comes to styling my hair. It's not quite a hair spray and not quite a shine spray, but it keeps my hair completely in place and adds shine at the same time.
The best way to use this is on totally dry hair before styling. Spray it on and then continue to style hair while it's still damp from the spray. If you're going to do this season's braid, or bun, or even a messy chignon, spray this on your hair before and then continue to style. Your braid will be shiny, frizz free, and it will stay in place for the entire day. If you want a rippled effect on your hair, then spray this into your hair at night, and take it out in the morning for perfect waves without any kind of muss or fuss.
This is the most basic product but it's an important one and if you have sensitive hair, then you're definitely going to want this.