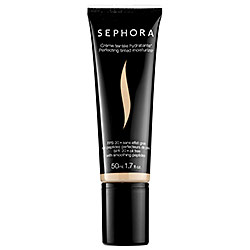 I've said so many times that I'm a huge fan of Sephora products.  They are often knock offs of the best products they have in the store, so they do use top of the line technology and ingredients but are offered to you at an affordable price.
These days I'm using their new Tinted Moisturizer which is oil-free and has spf 20 in it!.  I put a couple of squirts on their professional air brush foundation brush, and go to town blending it on to my face.
I think that I've been using powder foundation for so long that it's a little difficult for me to get used to this tinted moisturizer.  It gives a glowy look to the skin rather than a matte one and that's a little hard for me to get used to.  If you have dry skin, you are going to love this because it is so intensely moisturizing.
What I do like is that it's intensely moisturizing and light on the tint (unlike so many tinted moisturizers out there).  It's made some dry skin around my eyes totally disappear and although it's glowy, it does set itself.  I like to apply a bit of matte powder on top of this so that it becomes a little more long wearing, but on really dry days I skip that step completely and just go with the glowy moisturized look.
I'm coming to love this tinted moisturizer just because the weather outside is so cold and my skin does need some TLC this time.  I'm layering it on top of my regular moisturizer and the combo of them has been making my skin look and feel good.
If you're not a big fan of foundation, you should try this tinted moisturizer while it's still cold out.  It'll smooth the skin and condition it, but it's not at all greasy and it looks totally natural on the skin.
Get this at all Sephora locations for less than $25 which is a steal for this jumbo sized tube.