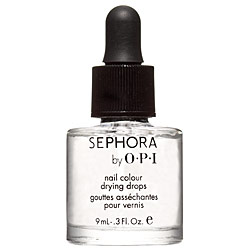 I'll be the first to admit that when it comes to spending time on myself, I get really impatient and get consumed thinking about all the stuff I could be accomplishing instead. So, any product that makes my life easier by being fast and effective gets bonus points.
Sephora by OPI Nail Colour Drying Drops do just that. After applying two coats of my favourite nail polish and then a top coat, I wait one minute and apply the drops to my wet nails. In another minute, I can be out the door if I need to be. The polish isn't completely dry at this point, but it's dry enough that if I need to get my jacket on, I can do so without ruining my manicure. It takes a full five minutes for the polish to dry completely after applying the drops, so don't expect to be tying shoe laces or crawling into bed right away – it's helpful, but definitely not a miracle product.
I also like that the product has vitamin E and jojoba oil – it kept my nails and cuticles moisturized and my manicure looking great!