The Hello Kitty collection is an adorable collection that you've probably noticed if you've walked by a Sephora anytime within the past month. The entire collection has super cute packaging, which is enough to make you want to stop just to look at it. However, the makeup line also packs some pretty fabulous antioxidant ingredients such as strawberry, apple and grape seed to fight free radicals, and keep skin soft and hydrated.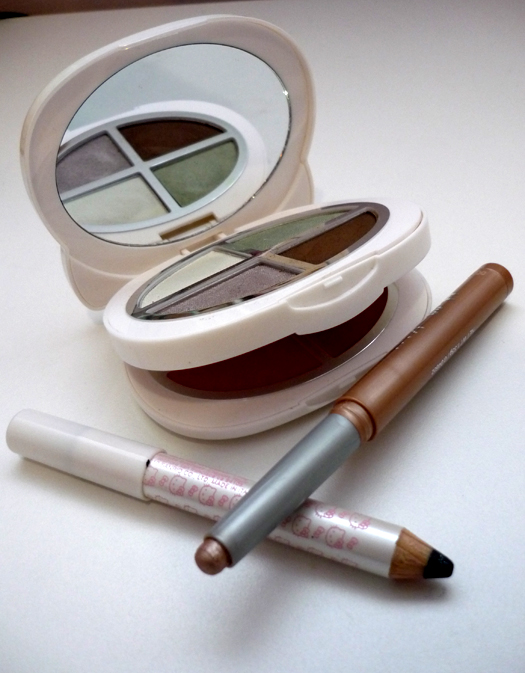 Hello Kitty Say Hello Happy Fun Palette
I read a few reviews about how fantastic these palettes were, so I was really excited to try one. Between the two palettes, the Happy Fun is the more neutral, day-worthy of the two. The eyeshadows in the palette include ice cream (pearl white), Airplane (shimmy taupe), Peppermint (shimmy sage green) and Chocolate Milk (matte brown).
While the shadows are a nice, silky texture and apply really well, I didn't find that they wore very well together throughout the day. The while, taupe and green all have a very similar shimmery base, so they sort of melt into each other throughout the day.
The palette works okay if you use the taupe or the green as a base, the white as a highlighter and the brown for your crease or as eyeliner, but the taupe and the green don't work well together because they sort of melt into one colour throughout the day, even with a eyeshadow base.
The colour payoff seems good if it's just swatched onto a hand or wrist, but on eyes, it seems to end up just being shimmery, with very minimal differences between the colours.
The bottom half of the palette is a lipgloss quad. The colours are baby pink (shimmery pink), peach pudding (coral), strawberry jam (slightly more pigmented pink), and springtime (apricot). These are more lipchap than lipgloss, because while they are relatively moisturizing, they aren't really what I would call glossy. For colour payoff with the lipgloss, it's better to tap it in than to rub it in.
I really hate that the lipgloss doesn't come with a lipbrush, because it's messy to apply without one, since it's in the palette form. The lipglosses do smell super sweet and are sans gross lipgloss taste, which is a plus in my book.
Things I did like about the palette: did I mention how super cute the packaging is? I'm willing to bet girls are going to get it just for that. I also liked that it has a mirror on the inside. Apart from that, it's probably not going to end up as my go-to day palette. The Happy Fun palette runs for $46CAD, so it's not the most expensive palette out there, but if you're not a big Hello Kitty fan, I think you could get a much nicer palette for your money.
Hello Kitty Glitter Cute Eyeliner
The Hello Kitty Glitter Cute Eyeliner (swatched at the top) was a pleasant surprise, mostly because I didn't think I was going to like it that much.
I have it in Night Sky, which is fitting for the jet black pencil liner with silver glitter.
I didn't think I was going to love it, partially because it's in a chubby pencil form, which really just seems like it's going to get everywhere.
It's perched perfectly on the line between a pencil liner that's too creamy and one that's too stiff.
It does go on a bit thicker because it's a chubby liner, but if you can get it really close to your lash line and smudge up, it gives this nice, subtle definition that's long lasting and pretty. The glitter in it, shockingly, does not migrate down your face during the day, even though it's the kind of chunkier glitter that usually does. AND it actually shows up, unlike other glitter liners where the glitter just clumps up on the tip of the pencil.
I am definitely going to go get this in other colours (there are seven), mostly because it's a nice lazy day eye makeup look that everyone can pull off. $18CAD at Sephora.
Hello Kitty Charmmy Eyeshadow Stick
The Charmmy Eyeshadow Stick in Friendship is a pretty, shimmery champagne cream eyeshadow. That said, the colour and width of the stick actually work better as a highlighter. It's a little small to apply easily as an eyeshadow stick, but the champagne colour works well if you're highlighting the inner corners of your eyes, brow bone, or cupid's bow above your lip.
The formula is relatively creamy and can be blended easily, but sets to a powder. It's retractable, which makes it really nice for carrying around and touching up makeup throughout the day. $21CAD at Sephora.