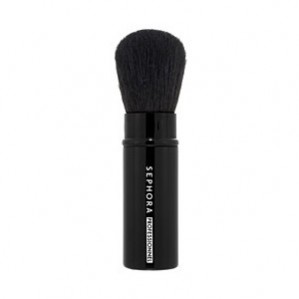 I hate using brushes on my face knowing there's dust (and whatever else) floating around, so bought Sephora's retractable powder and blush brushes. I know this makes me sound super paranoid about germs and bacteria, but with skin as sensitive as mine, I have to be. Designed for travel so the bristles don't endure damage, they're not the best brushes I've ever used, but they're up there.
I actually didn't think that changing the brushes I used would make a difference in my skin. My theory of using brushes that could be covered and protected from dust after each use just plays into my clean-freak tendencies, but I was surprised and fairly pleased with myself given the end result. I started using the brushes over a month ago and I've noticed a huge difference in my skin, with fewer breakouts to deal with.
The bristles are soft and pick up the right amount of product to deposit the right amount of pigment to my face. They're small enough that I can throw them in my purse, and messy powders won't ruin the inside. I also love that I can keep them with my other brushes without having to worry about germy eye brushes touching the brushes I use on my face.
The only negative I found was that the brushes were difficult to clean. I washed them how I normally would, but was really paranoid about water (and bacteria) sticking around on the inside. I let them dry for a while longer, and it didn't seem to be an issue.