In the winter, my skin can get so dry that it flakes off and it's all I can do to not be soaking in a vat of oil for the majority of my day.  I love nothing more than being moisturized head to toe, but the extreme greasiness of most products isn't too pleasant for someone who happens to shake my hand or tap me on the arm.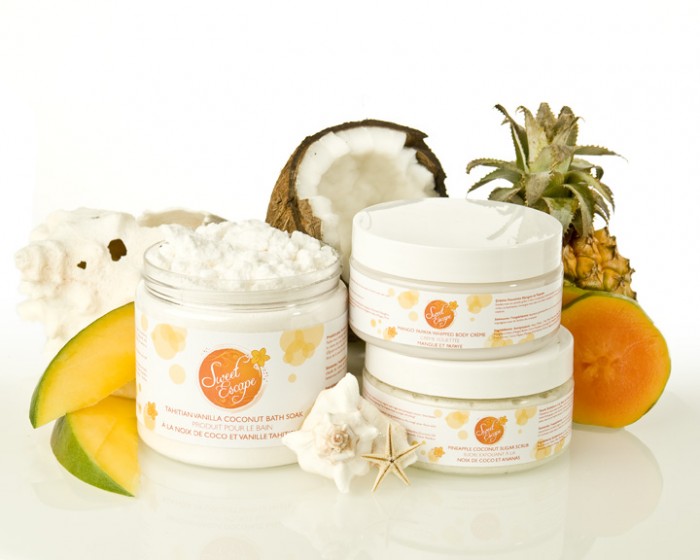 But against all odds, I've found a body butter that is non-greasy for those of you who hate oily greasiness!
The Body Butter is by a company called Sweet Escape and as the name suggests they make seriously yummy smelling goodies.  My favourite product is the body butter and the body scrub because they smell good but not too sweet.
I'm trying the Island Escape collection which is a blend of three differently scented products meant to be cocktailed together. It's a really neat concept and I like that I'm smelling products that are similar but not exactly the same.
The Island Escape collection has a Tahitian Vanilla Coconut Bath Soak, Pineapple Coconut Sugar Scrub and Mango Papaya Body Butter Creme.  They are all pretty awesome, and on a daily basis, the Pineapple Coconut Sugar Scrub and the Body Butter Creme are easy to use together or not!  The products are also chock full of natural ingredients which makes the deal even sweeter, and at a time when the weather just won't give us a break, I'm using these to think of my own personal getaway.
You can get the products from the website.