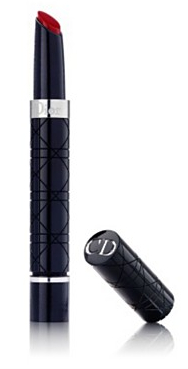 9 times out of 10, I am running out the door in the morning after just having eaten breakfast.  There's never any lip colour or even balm on my lips because I never have the time.  Instead, I keep something handy in my car that I can apply on the way to wherever I'm going.
This summer, that something is Dior's Serum De Rouge.  It has been truly a life-saver because it has a lightweight moisturizer and a nice punch of colour.  The colour I have is Violet Serum 860 which was new for the summer.  It's a darker hue so I think it has more pigment than some of the lighter colours, and that's why I can use it in place of a gloss and a lipstick.  I simply get both things in one.
This is better than a regular lipgloss, because it's not sticky at all.  It's supposed to give your lips moisture rather than shine, so it doesn't have those ingredients that can make a gloss tacky.  It doesn't stay on your lips as long as a normal gloss, but it does moisturize way better than a normal gloss. Dior even claims that after a month of daily use, your lips will be 40% more moisturized, so if you're looking for lots of improvement, this is something to go by.