I first mentioned Vinylux by Creative Nail Design back in June… and now it's finally here.  The system uses the solar light that we encounter every day to harden the Vinylux top coat you apply on top of a Vinylux nail polish.  The entire system is meant to last on your nails for up to seven days.
So I've tried the at-home gel manicure systems (see here and here and we're reviewing another one soon), and although it is possible to do a great gel manicure at home, I found that the time required for both the application and removal just didn't fit into my schedule.  Plus, if you follow me on Twitter then you know that I like to change my nail polish often (sometimes even before it has a chance to chip) and so a gel manicure really is too much overhead.
That's why I was so excited to hear about Vinylux – it's a system of nail polish and top coat that is said to last on your nails for at least seven days with nary a chip in sight.  There's no base coat, and no special removal process.  Plus, if you're a fan of Shellac (also by CND), then you'll be happy to know that Vinylux polishes are offered in many of the same colours  as Shellac.
The first colour I tried was Lavishly Loved #126.  I didn't like it because it's very sheer.  However, you were going to do a French manicure on yourself, then this would be the colour to do it with.  I did like that it was very shiny.
Although I don't like that the colour is so sheer, I have to admit that chips were pretty hard to spot from far away.  That said, they were still there. Check out what my nails looked like after seven days.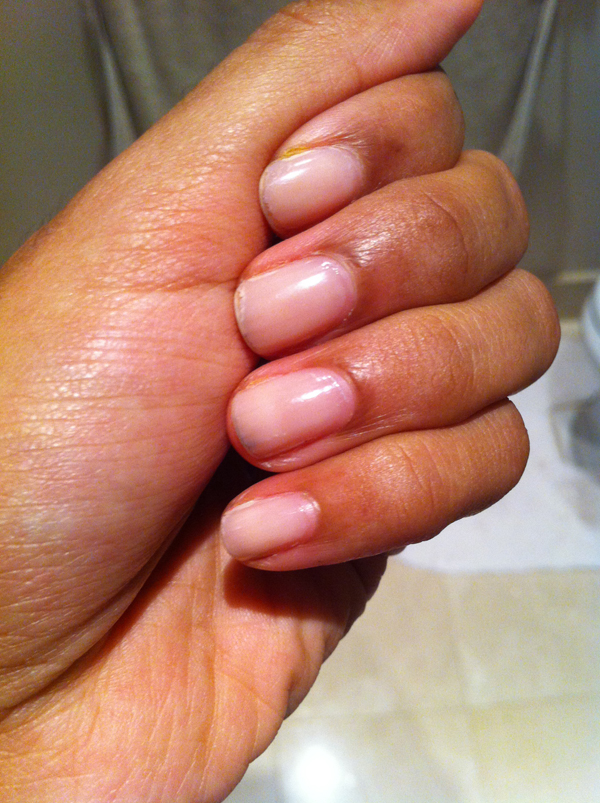 As you can see, the polish did not last seven days on my nails, and I'm not sure why that is.  I wasn't thrilled with this first experience.
Here's the second colour I tried: Tinted Love #153.  I really loved the pigmentation on this one and only applied two coats.  The darker colour meant that chips were really easy to spot.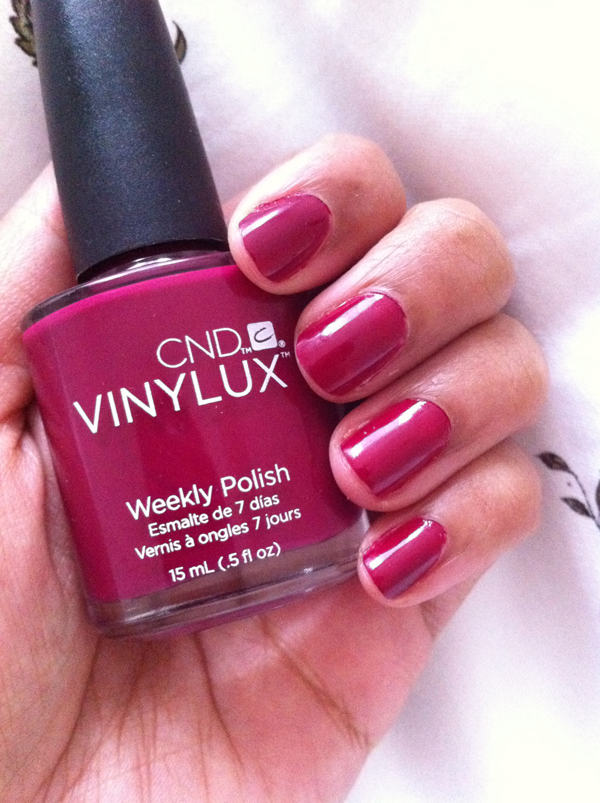 Unfortunately, for some reason my right hand took a beating that week.  I had 3 cracked nails and so lots of chips on my nail polish (and for the life of me, I couldn't figure out what happened!).  So here is what my right hand looked like after 7 days… not pretty and this polish didn't last very well.  CND says that the polish lasts best on nails that are very healthy, and I do agree with that, because I had almost no chipping on my left hand.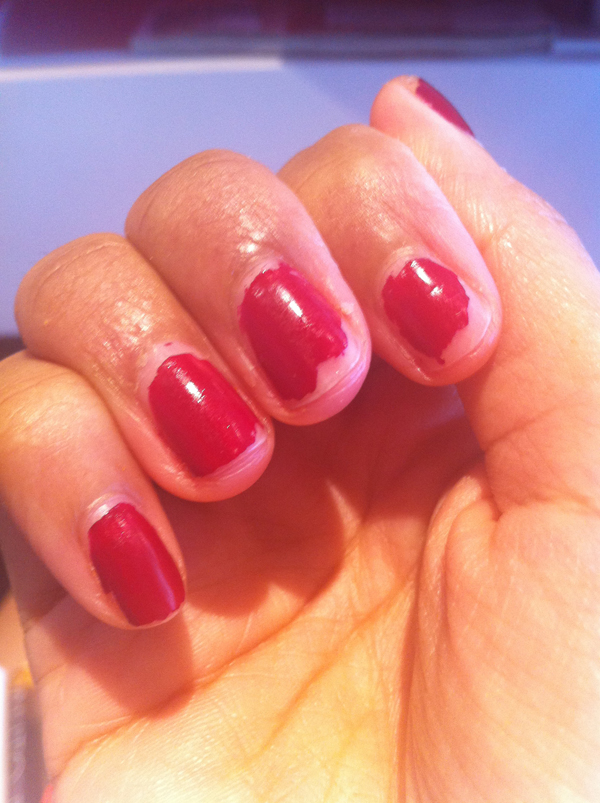 Here's Svelte Suede #124 which is definitely one of my favourites: it's a very easy-to-wear greige.  I found that I needed three coats for full coverage.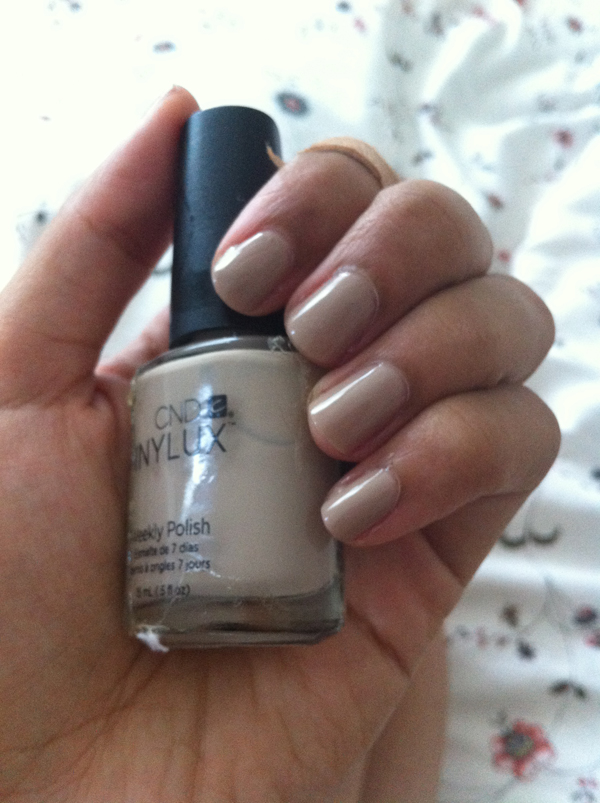 Finally, another favourite: Steel Gaze #149, three coats.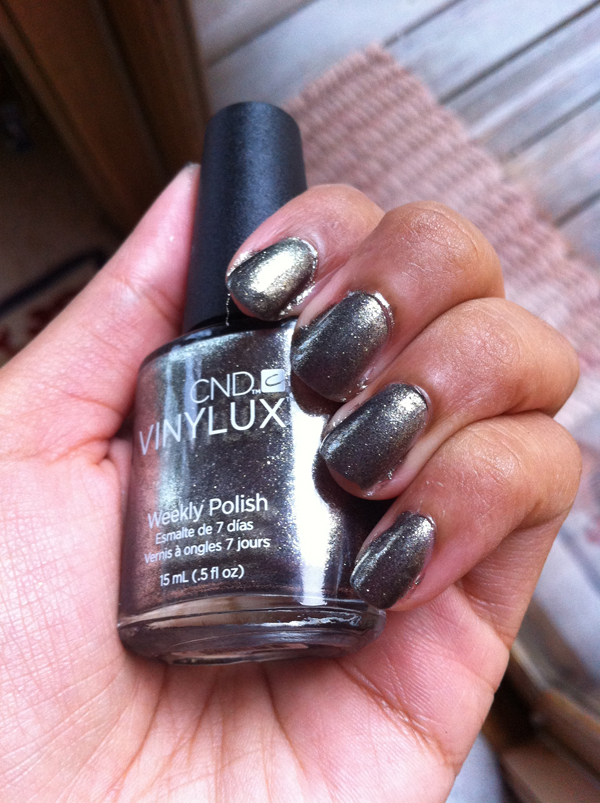 I finally got this one to last a full seven days without any chipping and I'll tell you how: I used two coats of top coat to really seal in the polish and that seemed to do the trick.
Here's Steel Gaze after seven days: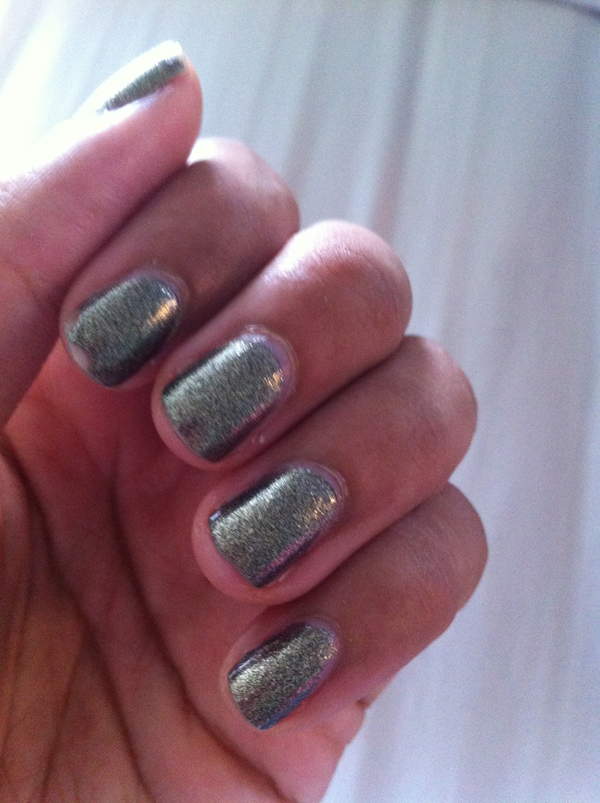 Since trying these polishes, I've been experimenting with lots of different combinations of polishes, the Vinylux top coat, and base coats, and here are some conclusions:
The Vinylux system really works best when you use a Vinylux polish and top coat together.  According to CND, the polishes have a built-in base coat.  Now I dismissed this as marketing-talk, but I think it's actually true.  I've found that the Vinlylux nail polishes really stick to the nail, so that even though I'm using regular nail polish remover to take them off, I find that I really have to rub hard at the nail to remove the polish.  That said, there is no yellowing or discolouring of the nail like there would be if you didn't use a base coat (remember this Cover Girl fiasco?).
I have found that the some of the colours are not as pigmented as I would like them to be (even the ones that are supposed to be opaque).  Two coats are sometimes streaky, and I prefer to use three coats to really get a nice finish.
The top coat is super shiny and really does dry in eight minutes.  I would say that you could be out and about in less time, but the top coat probably isn't fully dry.  I tried using the top coat with regular polishes, and it worked pretty well but not as well as when used with a Vinylux polish.   The regular polish doesn't stick as well to the nails (even when I used different base coats), and so chipped in the regular amount of time (usually three days).
I also found that I could prolong the Vinylux manicure even longer by applying another coat of Vinylux top coat on the second or third day.  If I was wearing Vinylux to a weekend of wedding events, then I would just apply a top coat daily to make sure that my nails were shiny.
Final verdict: I like the system, even though it doesn't always last the full seven days.  I have found that the wear of the polish is a step up from regular polish, and I really like that the Vinylux mani looks like a gel mani but without all the overhead required.  I would fully invest in some of my favourite colours of Vinylux and recommend it to anyone who is looking for a long-wearing polish. Plus there are 62 colours to choose from, including 30 that match Shellac colours.
I also was sold on the system once I was able to find some colours that I loved.  Cream Puff was the perfect white for the summer.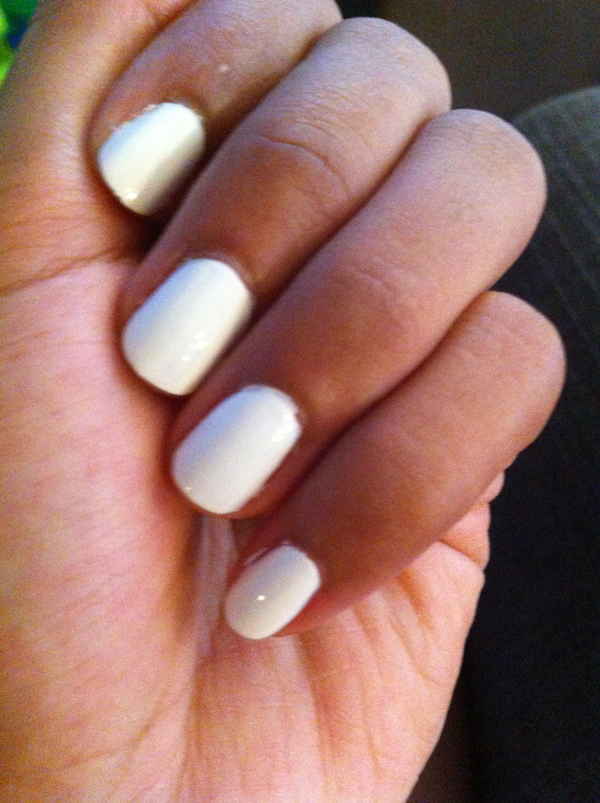 Midnight Swim is a nice deep shimmery blue that worked well for a fall mani.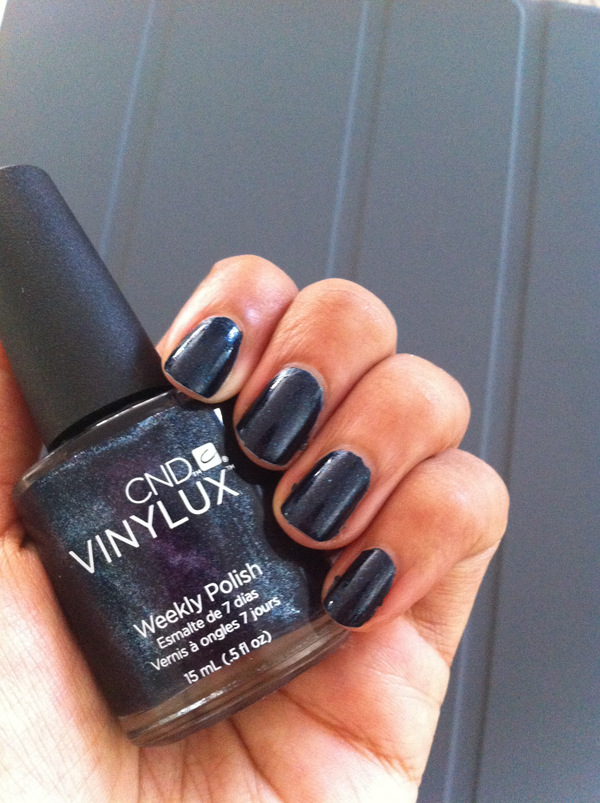 Cake Pop is just the most amazing candy-coloured pink that I'd wear year round.  I got SO many compliments on my polish when I wore this colour, and I really loved it.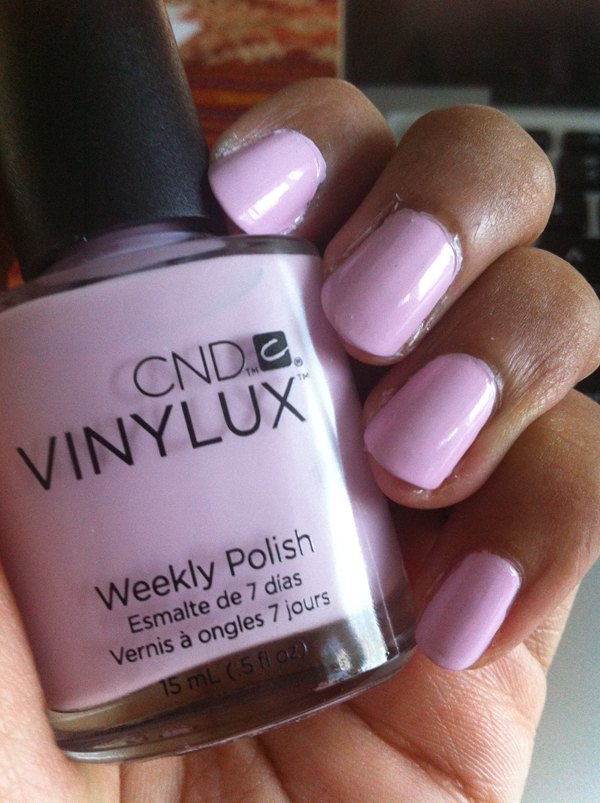 Vinylux is available at salons now.  Check CND.com to find out where.
Thoughts, questions?  Leave them below.