Lindsay Lohan has been on the A list to the D list, and everywhere in between, and somehow she still manages to spark my interest. Yes, I know that she hasn't put out a good piece of work since Mean Girls, but hey, at least she's interesting.
When she came out with Sevin Nyne, her answer to tanning products, I was instantly intrigued. Lindsay's reason for coming out with her own line was because she realized how difficult it can be to find a lotion that doesn't turn your orange, especially when you're a red head, and she felt that she could make something that was the perfect product.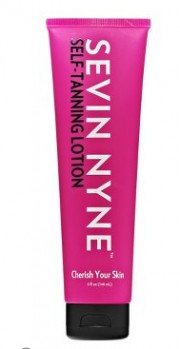 Since it's almost summer, I've been getting antsy to try some bronzers on my face, and figured that I better get the rest of me to match. So I've been trying the Sevin Nyne tanning lotion.
The instructions say to use a generous amount all over the body – colour begins to develop in an hour and continues to darken throughout the day. Of course, you can keep applying more lotion on subsequent days so that you can get as dark as you want.
All I have to say is – THIS IS NOT FOR BEGINNERS.
The lotion came out in my hand as a dark brown thick gel. I rubbed it into my skin but could see that it kind of got sticky because there was too much product that was drying quickly. Although they call this a lotion, it doesn't absorb as a lotion and kind of sticks on top of the skin. All I had done was follow instructions – I used a generous amount – but, I realized that it's better to use smaller amounts and cover each part of the body separately.
The dark brown colour of the product also put me off. I wasn't expecting such a dark tint and I didn't want it to rub off on my clothes. However, I have to say that after using this, I realized that the dark brown colour does have a plus: I can see exactly where I'm applying the lotion and it's very easy to see the parts that I missed. The underside of my arms, and the backside of my legs was totally bare, and I could see where I needed to apply the lotion. I could also make sure that I blended it in well because the colour told me where there was too much build up of the lotion.
So the colour of the lotion was dark brown, which meant that after applying this product, I was left with a golden brown glow on my skin. It actually looked nice, and I kind of wished that I was going out to be able to show it off. However, the brown colour washed off easily in the morning, and I was left with a brown – not orange! – colour on my skin, which looked totally natural. This really is the closest I've come to getting a natural coloured tan in a bottle, and I'm really impressed with the results.
Again, I'll repeat that if you're a beginner, this isn't the product for you. Stick to a gradual tanning lotion and get a feel for how to apply the product and the look that you're going for. I also have to say that if you're very light, then this will likely be too dark for you. One application gave me quite a dark tan, and this is definitely not gradual. On my face, I mixed this with my regular lotion to thin it out a bit, and you could follow that procedure for your body as well.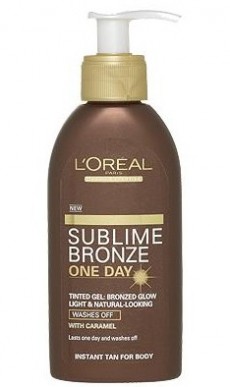 If you use self-tanners frequently, and you know the importance of exfoliating and blending, then go for this. You'll get natural looking colour in just one application.
One last thing:
if you want the brown caramel colour without the self-tanning bit, take a look at L'Oreal Sublime Bronze Tinted  Gel. It has the same kind of instant effect that the Sevin Nyne lotion has but it doesn't have any self-tanner in it, so once it washes off, you're back to your normal colour.  It also dries quickly, so you should apply it a little bit at a time on each are and rub it in well.  Wait for it to dry quickly so that you don't get anything rubbing off on your clothes.
I would not mix this with a lotion because then you won't have that perfect setting of the gel that will make it stick to your skin instead of your clothes.
L'Oreal is, of course, available at all drugstores, and Sevin Nyne retails at Sephora.