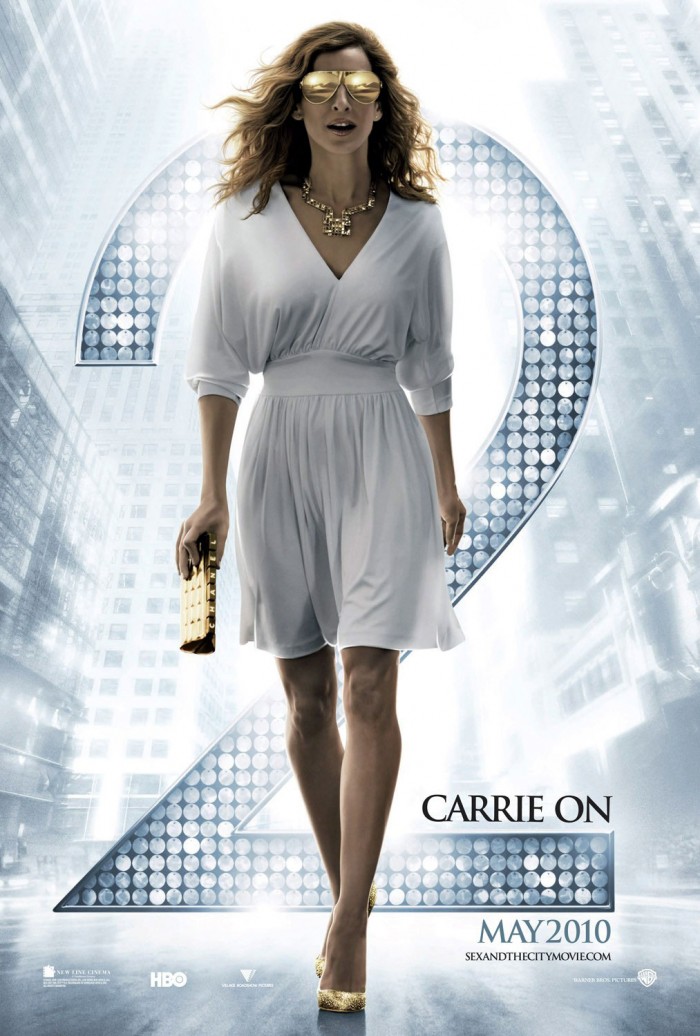 I was lucky enough to have the chance to attend a screening of the second Sex and the City movie and I'll tell you without giving you any spoilers that it was better than the first one. This was a lighter take on the single girl gets married theme that the first movie was about and the entire movie is a fun romp through Abu Dhabi.
More than anything else the movie explores the dichotomy between the past and the present and what it means to grow older and more mature.
You hint of what's to come is in the form of the opening montage of the movie. The movie takes place 2 years after the first movie and Carrie narrates how the foursome met and you see a flash of each character in the '80's and then them in the present. As you see them in their past and then present selves you wonder: how much have they really changed and how much can anyone change really?
Of course this is reiterated throughout the movie but especially in the huge symbol of Abu Dhabi, which wants to brand itself as "the new Abu Dhabi" but without letting go of it's old values, traditions, and rules. Is it possible to have change in a place that seems to be stuck in the past? Can the past and present live harmoniously side by side?
Beyond the romance and drama that takes place, the movie is of course major inspiration for fashion and beauty. If you take your fashion cues from Sex and the City, know that a tuxedo can look just as good on girls as it can on guys as long as you have the right accessories to dress it up.
And speaking of accessories, hats are huge in the movie. Of course there's the hommage to a Prada turban, which is fitting because they are in the Middle East, but hats of all shapes and forms make an appearance in the movie and they are so inspiring.
Another accessory that I couldn't help but notice were the finger nails! Samantha is the star here and if you keep your eyes open you'll notice that she has literally a different nail design for every day in the movie! I saw a lively reversed manicure with gold on the moons and red on the main nails. I saw mirror nails and I saw all kinds of great Calgel designs.
The girls were of course ultra glam in every scene. Sometimes I look at runway clothing and wonder how some of it could possibly come to life and then when I watched this movie I got a glimpse of how. There's a gratuitous change of clothes in the middle of the desert and the scene that follows is pure runway to real life magic.  Maybe it's not really real life but it's pretty amazing for someone else's real life. Harem pants, jumpsuits, and kaftans are so much more than just a nod to Eastern influence on fashion – you learn that you can dressing up should be a way of life – matter where you are or what you do.
To go with the crazy glam clothing is the pretty glam hair. I think that I really loved that the movie brought curly hair back. Carrie wears '40's style waves throughout the movie and her hair had never looked better. Even Samantha wears her hair curly and experiments with it short and long.
I loved this movie and I'll probably watch the first one again real soon so that I can relive the magic one way or another. If you like fashion, chic flicks, and especially if you liked the first movie then you have to watch this one. You are going to love it.