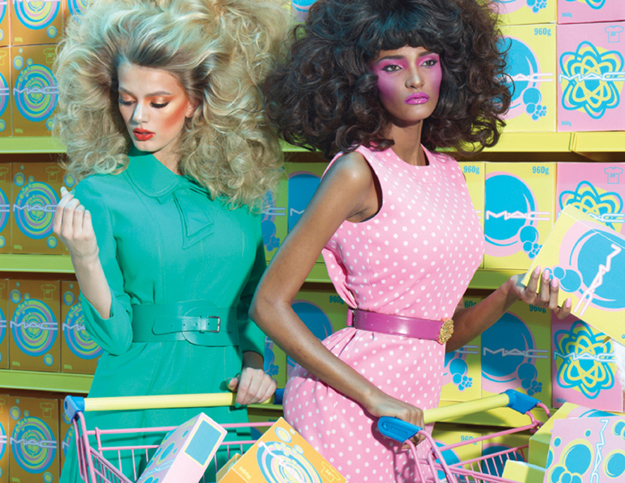 This is probably one of my favourite collections this spring because there are so many fun bright colours in fantastic shimmer-free finishes.
You have to check out the lineup at your local MAC counter to really appreciate the collection.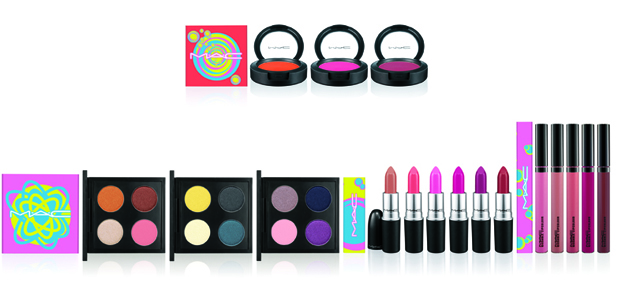 The lineup includes:
LIPSTICK
Innocence, Beware!- Light yellow pink (cremesheen)
Naughty Sauté – Bright pepto pink (cremesheen)
Watch Me Simmer – Bright pink-orange (amplified)
Quick Sizzle – Bright pink (matte)
DishItUp – Berrypink(lustre)
Runaway Red – Rich red-blue (satin)
Suggested Retail Price $14.50 U.S./$17.50 CDN
KISSABLE LIPCOLOUR
Flaunting It – Grey mauve
So Vain – Muted dirty coral
Scan-delicious – Blue fuchsia
Woo Me Light – pinky nude
Enchantée – Light blue pink
Suggested Retail Price $19.00 U.S./$22.50 CDN
CREMEBLEND BLUSH
Optimistic Orange – Bright coral
Florida – Bright coral
Restores Dazzle! – Rich plum
Suggested Retail Price $20.00 U.S./$24.00 CDN
EYE SHADOW X4
SHOP & DROP
Hypnotizing – Frosted greyed mauve (frost)
SugarSnack – Lightpink(matte)
Power Boosted – Violet (veluxe pearl)
Shop & Drop – Deep blue (satin)
Suggested Retail Price $38.00 U.S./$45.00 CDN
CALL ME BUBBLES
Call Me Bubbles – Light tan (satin)
Fresh Daily Orange (frost) – Brash Frosty reddish copper (veluxe pearl)
Full of Flavour – Coral (matte)
Suggested Retail Price $38.00 U.S./$45.00 CDN
COLOUR ADDED
LaundryDaze – Lightyellow (satin)
Colour Added – Bright yellow (veluxe pearl)
Self-Serve – Deep grey (satin)
Pre-Packaged – Muted turquoise (veluxe pearl)
Suggested Retail Price $38.00 U.S./$45.00 CDN
My favourite colour is Watch Me Simmer – it's the prettiest coral with tons of pigment and lasting power.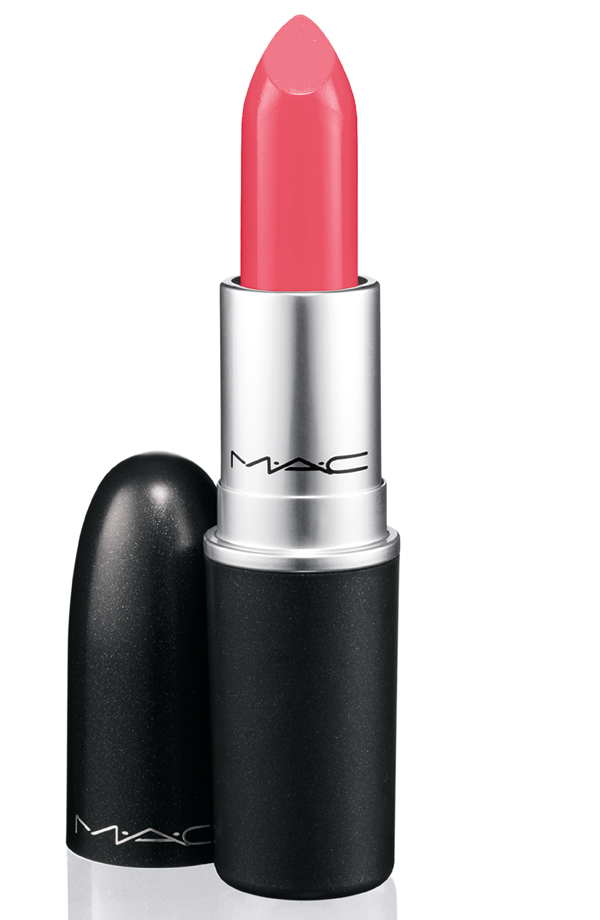 Have you checked out the collection already? Did you love it?