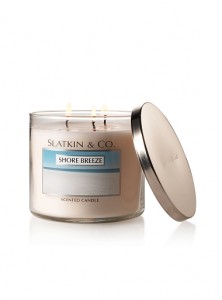 When it's summer time, you have to change up your home fragrances to reflect that. Do away with the vanilla or cinnamon scents and instead go for something more fresh and airy. We've lit Slatkin and Co's Shore Breeze candle and it smells so nice! It's a scent that's hard to describe, but it's almost a mix of salt and herb and reminds us of walking on a beach on a cool spring day.
Right now, all Slatkin and Co. fragrances are only $10 at Bath & Body Works' website so stock up!  These candles are amazing because they have the highest concentration of fragrance oil on the market.
Also, if you want to know when Bath and Body Works will open in your Canadian home town, check out this page on their website.