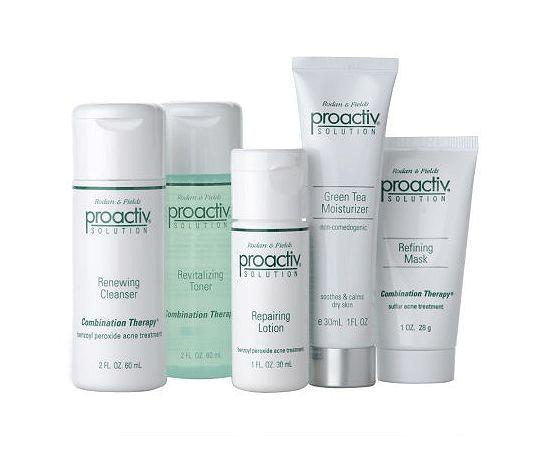 Lately, I have been using the ProActiv 3-step System.  They recommend that you use the system only when you have 5 or more breakouts at one time, and unfortunately, this has been the case with my skin for the past little while.  I don't know if it's stress, or maybe the change of weather, but my skin has not been doing well.  So I turned to ProActiv.
The formula of it has changed so that they now use what they call a "micro-crystal technology" which lets the key ingredients get absorbed by the skin more quickly.  I don't really have anything to compare the system to, so all I can comment on is the system as a whole.
I found that this really dried my skin out – I mean, I have oily skin that usually doesn't get dry, but after a couple of days of using this system, I felt as if my skin would crack if I smiled.  My makeup went on really well on top of it, and it looked flawless for a long time, but I really did have a hard time dealing with the dryness.
The solution, of course, is to cut down on how often you use the Repairing Treatment.  Instead of using it every morning and night, I cut back to mornings only, and then I cut back even further to every other morning.  My skin handled that pretty well and then I could use it a little more bit by bit.
My favourite part of the system is the cleanser, which is really well formulated.  The Renewing Cleanser is oil-free, and has tiny beads that can help exfoliate skin.  They say that this also has benzoyl peroxide in it that can get into your pores, but when you wash something off, the chances of anything being left on the skin is pretty slim.  Regardless, I really liked using this cleanser, and I needed a wipe to take off most of my makeup and used this cleanser after doing that.
Overall, the system has helped my skin a lot, and I am going to continue to use it.  If you have even mild acne, I would recommend using this because it really does work.  The system that I got also included a free sample of their oil-free Green Tea Moisturizing Lotion but I found that it didn't really relieve dryness as much as I liked it to.
I also got a sample of the Refining Mask which I liked – it is a pretty standard sulfur and clay mask that can help dry out acne.  I used it a couple of times a week when I felt that my skin wasn't that dry.